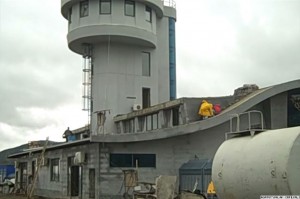 STEPANAKERT — Nagorno-Karabakh's sole civilian airport currently undergoing reconstruction will reopen its doors in May for the first commercial flights between the republic and Armenia in two decades, a senior official in Stepanakert announced on Wednesday.
Dmitry Atbashian, head of the local civil aviation authority, said a state-run airline has already been set up to carry out those flights on a daily basis.
Flights to and from the airport, located 8 kilometers east of Stepanakert, had been discontinued in 1991 amid intensifying armed clashes in and around Karabakh during the liberation war against Azerbaijani. Transport communication between the territory and the outside world has since been carried out by land, via Armenia.
The Karabakh government decided in 2009 to reopen the airport, severely damaged during the 1991-1992 war, and raised about 1 billion drams ($2.8 million) for its reconstruction from unspecified "charitable sources."
According to Atbashian, the construction work is nearing completion, and air navigation and other equipment is already being installed at the airport. The facility will be fully furnished by April, he said.
Atbashian assured journalists that flight security "will be ensured by 100 percent" despite the airport's proximity to the heavily militarized "line of contact" separating Armenian and Azerbaijani forces. He warned Azerbaijan against attempting to disrupt the flights.
Atbashian stressed that security in and around the airport building will be "twice as tight" as at Yerevan's Zvartnots international airport because of what he described as a potential threat of "terrorist acts." "We are located in a dangerous zone," he argued.
Atbashian also revealed that the Stepanakert-Yerevan flights will be carried out by a newly established Karabakh airline, Artsakh Air. He said its fleet of aircraft will consist of three Canadian-made CRJ200 passenger jets costing at least $15 million each. The official did not say who is financing their purchase.
It also emerged that a round-trip air ticket to the Armenian capital will likely cost between 18,000 and 21,500 drams ($50-60). By comparison, the current fare for a minibus trip from Stepanakert to Yerevan, which takes between six and seven hours, is 5,000 drams.