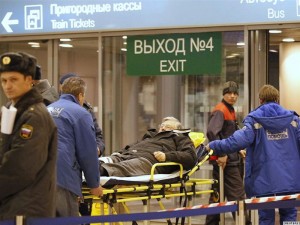 MOSCOW — Three of 4 Armenians injured in Domodedovo blast, Guryan Khachaturov (born in 1946), Yuri Vartanov (born in 1953), Anatoly Pogozbekov, 52, are RF citizens, Spokesman for Armenian Embassy in Russia Gevorg Minasyan told Armenian News-NEWS.am.
At the moment Karen Galusyan's (1969, Krasnogorsk district of Moscow region) citizenship is being clarified.
Minasyan said on January 26, the officers of the Armenian embassy visited the injured in hospital. According to him, Khachaturov and Vartanov are recovering, whereas Pogozbekov remains in critical condition. At the moment he is in the intensive care department. No further information on Galustan's health condition is available at the moment.
Minasyan also said the representatives of Union of Armenians of Russia also visited the injured and expressed their readiness to provide necessary assistance.
The Suicide bomb attack killed at least 35 people and injured more than a hundred others at the Moscow airport on Monday. The explosive device contained the equivalent of 2 to 5 kg of TNT.