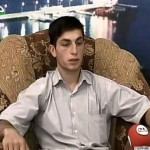 An Armenian man detained in Azerbaijan in disputed circumstances last month has been found dead in his prison cell, military authorities in Baku said on Tuesday.
In a joint statement reported by local media, Azerbaijan's Defense Ministry and Office of the Military Prosecutor claimed that Manvel Saribekian, 20, hanged himself early in the morning. It said forensic experts found no traces of violence on his body.
The Armenian Defense Ministry dismissed this explanation, saying that it has "no grounds" to trust in its credibility and considers Azerbaijan responsible for Saribekian's death.
"Time and again, Azerbaijan is resorting to criminal steps without being censured by competent international structures," the ministry said in a statement. "It is this sense of impunity that killed our compatriot unprotected by international norms."
A senior Armenian official asserted that Saribekian was either beaten to death or "driven to suicide." "Whatever happened, they would have claimed that he committed suicide," said Armen Kaprielian, head of a government commission on Armenian prisoners of war, civilian captives and missing persons.
"In any case, we are talking about a crime, a brutal one," Kaprielian told RFE/RL's Armenian service. "We will do everything to have Azerbaijani officials and bodies guilty of what happened brought to account."
The Azerbaijani authorities say that Saribekian was captured on September 11 after crossing into northwestern Azerbaijan with an Armenian armed group tasked with carrying out armed "provocations."
The Armenian Defense Ministry denied these claims, saying that Saribekian is a civilian resident of Tutujur, a village in northeastern Armenia close to the Azerbaijani border, who completed his military service in May. It said Saribekian accidentally strayed into Azerbaijani territory while grazing cattle in the area.
The ministry also strongly condemned an interview with Saribekian that was aired by a government-controlled Azerbaijani TV channel later in September. Saribekian, who had what looked like a bruise under his right eye, was shown saying that he was recruited by an Armenian security officer in Tutujur and underwent a two-month training course at a secret military camp together with several other men.
Saribekian claimed that they were sent into Azerbaijan on a mission to blow up a school in a village close to the Armenian border. At the same time, he said he told Azerbaijani troops that captured him, "Please don't kill me, I'm a shepherd."
"I am more than convinced that he was coerced to say that," Kaprielian said, commenting on the video. He said Armenian soldiers and civilians kept in Azerbaijani captivity have given harrowing accounts of torture after their liberation.
The official added that his commission has asked the International Committee of the Red Cross to obtain more information about Saribekian's death through its Baku office and hopes that his body will be repatriated soon. "We have no official information from Baku yet," he said.
Instances of Armenian and Azerbaijani civilians crossing the heavily militarized border between their countries, apparently after losing their way, have not been uncommon. In April, for example, Armenia repatriated an Azerbaijani man who was detained in its northern Tavush region last December. It remained unclear whether the 46-year-old Eldar Tagiyev the crossed the Armenian frontier intentionally or by accident.