YERASKH—Due to gunfire from the Azerbaijani side towards the smelter plant under construction in Yeraskh, a civilian car and another facility were damaged. The Armenian Ministry of Defense has reported that units of the Azerbaijani Armed Forces fired from various firearms towards Armenian positions in the Yeraskh area. Fortunately, no casualties have been reported on the Armenian side.
The Armenian Foreign Ministry stated that Azerbaijan's act of firing at the construction site demonstrates a clear disregard for Armenia's internationally recognized borders, human rights, and international law. They emphasized that the construction of the smelter plant fully complies with Armenia's international obligations, and Azerbaijan's false concerns are merely attempts to hinder Armenia's economic development and foreign investments.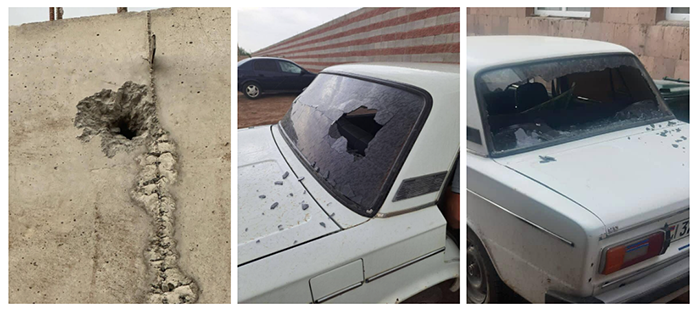 The recent incident follows Azerbaijan's baseless accusations against Armenia regarding the construction of the factory. The Republic of Armenia has previously stated that the project adheres to all international obligations, while Azerbaijan's false claims are aimed at impeding Armenia's economic progress. The Armenian Foreign Ministry condemned Azerbaijan's actions, stating that they disregard Armenia's internationally recognized borders, human rights, and international law. Moreover, Azerbaijan consistently demonstrates its intent to impose desired solutions on Armenia through the illegal use of force, taking advantage of the weak response and permissiveness of the international community.
The Armenian Foreign Ministry has called on the international community to take concrete measures to restrain Azerbaijan's expansionist ambitions and its unacceptable policy of using force and threats to achieve groundless, illogical, and arbitrary demands.
GTB Steel LLC, the company responsible for constructing the black metal scrap processing plant in Yeraskh, has reaffirmed its commitment to conducting operations in accordance with Armenian legislation and for the benefit of the Republic of Armenia. In response to claims from the Azerbaijani Ministry of Environmental Protection that the construction and operation of the smelter would harm the environment in Azerbaijan, GTB Steel LLC emphasized its compliance with all requirements defined by Armenian regulations.