STEPANAKERT — Azerbaijan must understand that peace does not come at the cost of Armenian lives, Artsakh's minister of State Ruben Vardanyan said in a Twitter post.
"We're ready to have a constructive dialogue on what peace means to both Armenians and Azerbaijanis. But we'll never give up on the right to live a life with dignity, respect and freedom in our homeland Artsakh," he said.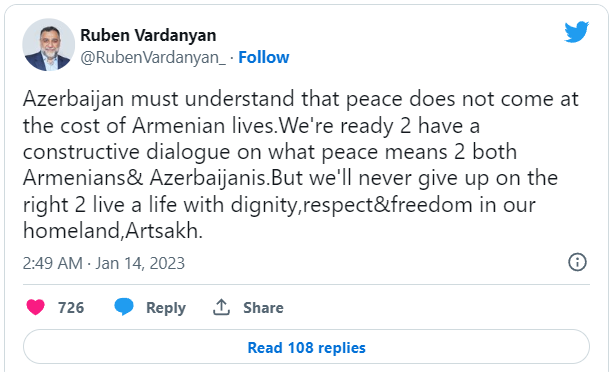 Vardanyan also denied reports that he is going to resign, especially during the ongoing crisis.
"The possible resignation of the President or the dissolvement of the Parliament are also unacceptable," Vardanyan said in a Twitter post.
"We must convene all our efforts to overcome this horrible situation. We must preserve Artsakh and we have that chance today," he added.