LAS VEGAS — The Las Vegas Armenian community achieved yet another new milestone with the establishment of the first all day Armenian language channel broadcasting on COX cable 274.
Armount TV Network is owned and operated by Arman and Gayane Adamyan, whose TV association go back to Shirak TV-Radio in Gyumri, Armenia and later working with ARTN-Shant TV in Los Angeles, California.
Although Armount TV has been operating in Las Vegas since January 2016, the official Ribbon Cutting took place on Wednesday, June 1st by Honorary Consul of the Republic of Armenia in Las Vegas, Andy Armenian, Clark County Commissioner Susan Brager, Nevada Consular Corps Founder and City of Las Vegas Chief of Protocol Gayle Anderson, representatives of Nevada Lieutenant Governor Mark Hutchison, Senator Dean Heller, Congresswoman Dina Titus, Congressman Dr. Joe Heck and Congressman Cresent Hardy and over 100 invited officials, Armenian community representatives and local businesses. Also present was Mr. Robert Oglakhchyan, CEO and President of ARTN-Shant TV. The Ribbon Cutting was Emceed by Mrs. Lenna Hovanessian, Esq.
Armount TV has an association with ARTN-Shant TV in Los Angeles where they rebroadcast Shant TV programs in Las Vegas. The association with Shant TV will continue while Armount TV Network strives to develop local and original Las Vegas programming such as coverage of Las Vegas community news, events, and entertainment.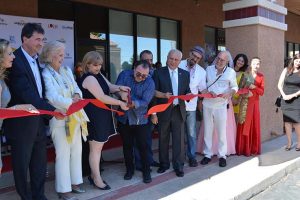 Armount TV hosted and produced a local Las Vegas SARF fundraising telethon in February, which was broadcast live for two and a half hours prior to the SARF Los Angeles fundraiser. In April, Armount TV covered the April 23 Armenian Genocide Vigil at Sunset Park, the April 24 Commemoration at St. Garabed church, and the march for Justice on Las Vegas Boulevard.
In May, Armount TV, as part of their community services, covered the third anniversary for the consecration of St. Garbed church and also the Consecration ceremony of St. Geragos church.
Most recently Armount TV partnered with our local Chef Aram in producing "Spice It Up with Chef Aram", a weekly cooking program. Chef Aram Bakalian, owner of Lolik Catering has sponsored several local community catering events and during the Ribbon Cutting guests enjoyed offerings from the fresh seafood bar, fine cheeses as well as passed appetizers, including Armenian beef tartar (chee kufta) in mini sesame cones.
Armount TV has invested over $300,000 in TV broadcasting and production equipment and has the capability to produce TV commercials in any language, 20-30 minute long infomercials, live broadcasting and events coverage. Additionally, Armount TV can help local businesses in expanding their reach into Social Media outlets, such as YouTube and FaceBook, by providing professional video production for either private or business events.
For further information please e-mail [email protected] or call 702.487.7777