ISTANBUL – Turkish police on Monday used pepper spray and water cannon to disperse a protest in Ankara calling for justice over the murder of Turkish-Armenian journalist Hrant Dink, who was shot dead in broad daylight outside his offices eight years ago.
Thousands of people had marched through central Istanbul earlier on Monday in a peaceful demonstration to remember Turkey's most notorious killing of recent years that sent shockwaves around the country. They held banners such as "become conscious of the genocide along with Hrant Dink". Others held cards reading: "We are all Hrant Dink, we are all Armenians."
However police moved in to disperse a smaller rally in central Ankara in the evening as the protestors sought to march on the justice ministry.
Twenty people were arrested as police used pepper spray and water cannon to disperse the protest, the CNN-Turk television channel and Radikal news site reported.
Holding signs in Turkish, Armenian and English reading "Justice for Hrant", protesters in Istanbul had earlier rallied around the offices of the Agos newspaper, a bilingual Turkish and Armenian weekly, which he edited.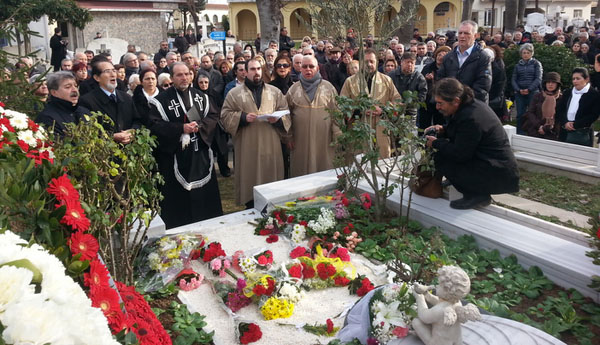 The Istanbul memorial rally is an annual event but was considerably larger than in previous years.
In Malatya, where the journalist was born, a young man brandished a gun at a rally for. According to the report of the Do?an News Agency, the rally began in front of the Girls' Vocational School. A group of around 100 people, mostly composed of E?itim-Sen (Union of Education Workers) carrying carnations and photographs of Hrant Dink began marching towards the Çavu?o?lu Neighbourhood where Hrant Dink was born.
Just when the group had reached the intersection at Turgut Temelli Street, an unidentified young man pulled a gun from his waist and pointed it at the group. Police officers following the rally overpowered the man and removed his weapon. The man was detained.
Meanwhile, a court on Monday remanded in custody Ercan Demir, who was police intelligence chief of the Black Sea Trabzon region where the gunman and his suspected accomplices came from, on charges of failing to act on intelligence that could have prevented the murder.
Demir had been controversially named police chief of the southeastern Sirnak province but an arrest warrant was issued for him last week and he turned himself into the police in Ankara.