LONDON — His Royal Highness Prince Charles, Prince of Wales paid a historic visit to St. Yeghiche Armenian Apostolic Church in London for morning services on November 19.
The visit is said to be a part of His Royal Highness' emphasis on raising awareness of the recent persecution of Christians, including Armenians, in the Middle East, primarily Syria and Iraq. Prince Charles has already visited Syrian and Coptic Orthodox Churches as well.
He took part at a service where prayers were said for those suffering because of their faith.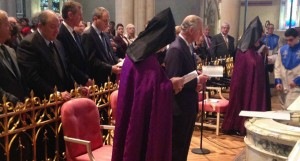 During the service, there was a choral performance, which included a piece from the Armenian opera "Davit Bek" by Armen Tigranyan. His Grace Bishop Vahan Hovhanessian, Primate, Diocese of the Armenian Church of the United Kingdom and Ireland gave thanks during the services. Remarks were given by His Eminence Archbishop Avak Asadourian, Primate, Diocese of the Armenian Church in Iraq and also by His Excellency Dr. Armen Sarkissian, Ambassador of Armenia to the United Kingdom. At the conclusion of the program, His Royal Highness greeted the invitation only congregation and members of the choir.
Speaking during the service Prince Charles said: "It is literally heartbreaking to learn of the attacks on Christians and on the churches where they gather, such as the mindless, brutal destruction of the Armenian church in Deir el-Zour earlier this year."
He went on to praise those who've suffered for standing up to adversity: "I greatly admire the courage and faith of your flock who are an example to us all of faith quite literally under such grotesque and barbarous assault."
"It is an indescribable tragedy that Christianity is now under such threat in the Middle East; an area where Christians have lived for 2,000 years, and across which Islam spread in 700AD, with people of different faiths living together peaceably for centuries." He concluded.
St. Yeghiche Armenian Church is the largest of the Armenian Apostolic Churches in Great Britain. Located in Cranley Gardens, Kensington, London, it was built in 1973.