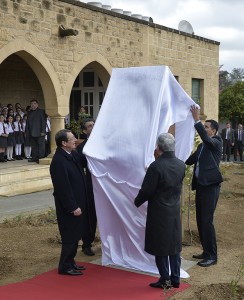 NICOSIA (Armradio) — The replica of an Old Jugha cross-stone was unveiled in the open-air museum of the Cypriot Ministry of Foreign Affairs today. The solemn opening ceremony was attended by the Presidents of Armenia and Cyprus Serzh Sarkisian and Nicos Anastasiades. The cross-stone was a gift from President Serzh Sarkisian on behalf of the Armenian people.
Nicos Anastasiades thanked his Armenian counterpart and noted that the monument is a symbol of indissoluble connection between the Armenian and Cypriot peoples and the two friendly states.
"Our peoples that fell victim to the same criminals have been fighting and keep fighting on the international arena to preserve their rights and values. Cyprus was one of the first countries to recognize the Armenian Genocide and condemn that crime. Our countries and peoples are committed to the norms of international law, including the right of peoples to self-determination," President Anastasiades said. He added that the two countries are committed to the peaceful resolution of all issues and determine their future, respecting human rights.
"The sons of the Armenian nation that fled the genocide a century ago and settled in Cyprus, comprise an active and a very important part of the Cypriot society, at the same time preserving their language, identity, traditions and respecting their roots, their Motherland and the country that hosted them. We are proud to see them as part of our society," the President said.
"Cyprus and Armenia continue to develop bilateral cooperation, combining efforts to come out victor in their struggle for justice. The opening of this monument today is yet another testament to the deep and friendly relations that exist between the two peoples," Nicos Anastasiades said.
Armenian President Serzh Sarkisian said the cross-stone will henceforth introduce Armenia and the Armenian people to the foreigners and will stand as an eloquent witness of the Armenian-Cypriot friendship. It will also signal that any expression of violence against culture is a crime against humanity and will send a message of unity to all humanity to fight against the brute force threatening the unique pillars of culture and history.
"This masterpiece of art that has become the symbol of the Armenian spiritual values and the Christian spirit is part of the UNESCO's intangible heritage," President Sarkisian said.
"Any cross-stone created in the course of history speaks without words, tells about the glorious pages and failures of our history," the Armenian President added.
He informed that the cross-stone unveiled in Cyprus is the replica of one of the 3,000 cross stones destroys by Azerbaijanis in Old Jugha.