YEREVAN — Hundreds of youth activists continued to demonstrate outside the Yerevan municipality on Friday despite Mayor Taron Markarian's decision to cancel a controversial rise in public transport fees.
The protesters demanded that Markarian sack the head of the transport department in the municipal administration, Henrik Navasardian, and the director of a municipal bus operator,  Misak Hambardzumian. They said he must also compensate those Yerevan commuters who paid higher bus fares for almost a week. The Mayor's Office must make up for the "damage" by temporarily cutting the tariffs by half, theysay.
Riot police cordoned off the municipality building to keep the protesting youths from approaching its entrance. Valeri Osipian, Yerevan's deputy police chief who led the crowd control operation, repeatedly warned them that the gathering is illegal. "You are disrupting public order," he said.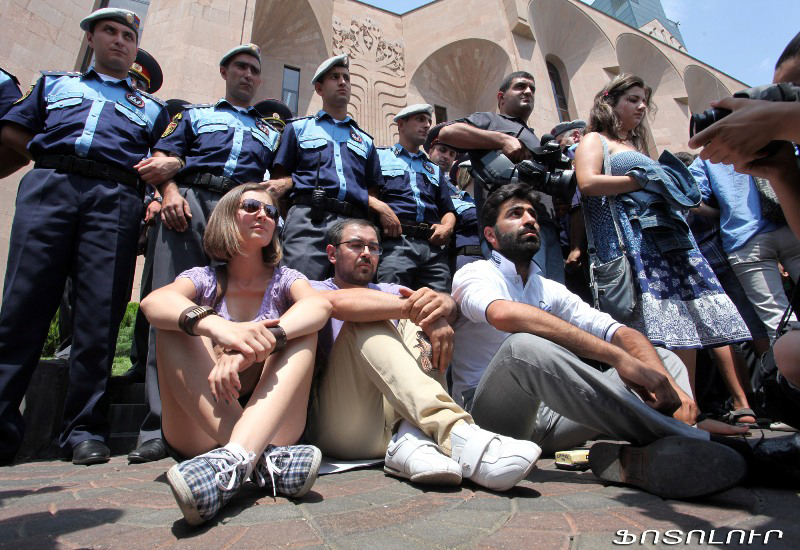 The protesters were clearly emboldened by the success of their unprecedented campaign against the transport fare rise, which has had a huge resonance in Armenia. Hundreds of them celebrated their "victory" in the streets on Thursday evening after the announcement of Markarian's decision.
"This is a victory but we won a battle, not war, and the struggle will continue," one of the activists, Sonia Msrian, told RFE/RL's Armenian service (Azatutyun.am). "We will achieve systemic changes in the public transport sector."
Markarian also faced more challenges from the opposition minority in the municipal council. The opposition bloc Barev Yerevan (Hello Yerevan) said it will go ahead with plans to challenge the legality of the price hikes in court. Barev Yerevan leaders say the measure was illegal because the authorities began enforcing it before the publication of a corresponding order signed by the mayor.
Anahit Bakhshian, a leader of the bloc connected to Raffi Hovannisian's Zharangutyun (Heritage) party, said Barev Yerevan will demand Markarian's resignation if the order is deemed illegal. "We will be fully exposing the series of incompetent decisions made by these authorities and their penchant for protecting their personal interests," she said.