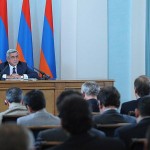 YEREVAN –Armenia suspended diplomatic relations with Hungary on Friday, furiously condemning the NATO and European Union member state for effectively freeing the convicted Azerbaijani killer of an Armenian army officer.
President Serzh Sarkisian announced the decision at a meeting with the Yerevan-based ambassadors of foreign states and representatives of international organizations. It followed an emergency session of Armenia's National Security Council that discussed implications of Ramil Safarov's extradition to Azerbaijan and a pardon immediately granted to him By President Ilham Aliyev.
"With these joint actions, Hungary's and Azerbaijan's authorities have cleared the way for a repeat of such crimes," Sarkisian told the foreign envoys. "They are sending a message to murderers. They [murderers] know now that a murder committed on the basis of religious or ethnic hatred can go unpunished."
"I can not tolerate that," he said. "The Republic of Armenia can not tolerate that. The Armenian people will not forgive that."
"I am officially declaring that today we are suspending diplomatic relations and all official contacts with Hungary," he added.
Armenia and Hungary have no embassies in each other's capitals. The Armenian ambassador to the Central European state is based in Vienna. Turkey has until now been the only NATO member state with which Yerevan has no formal diplomatic ties.
Sarkisian  stated that official Budapest simply cut a secret deal with the Azerbaijani government after having repeatedly assured Yerevan that the Azerbaijani army lieutenant will remain behind bars in Hungary. He said officials at the Hungarian Foreign Ministry and parliament reiterated those assurances "during contacts in recent days."
Sarkisian went to urge the international community to respond to the development with "clear and unequivocal actions." "Half-measures and empty talk are not acceptable," he warned. "We will judge the attitude of our partners towards the security of the Armenian people by their response to this incident."
The warning seemed primarily addressed to Western powers. Sarkisian noted that after Lieutenant Gurgen Markarian was axe-murdered by Safarov during a NATO training course in Budapest in 2004 they were "continually urging us to refrain from politicizing that process." "We were continually urged to trust the judiciary of Hungary, a member of that important alliance," he said.
The Armenian leader did not specify whether he expects NATO and the EU to also explicitly condemn the Hungarian government. Sarkisian has boosted Yerevan's ties with both Western structures since coming to power in 2008.
The president spoke of implications of Safarov's release for the  Nagorno-Karabakh conflict when he addressed his National Security Council earlier in the day. He ordered Defense Minister Seyran Ohanian to put Armenian army units on a higher state of alert and said he will give the head of the National Security Service, Gorik Hakobian, an unspecified "special assignment."
Sarkisian said he has also told Armenian diplomatic missions abroad as well as Armenian Diaspora groups to launch public relations campaigns. "The Hungarian authorities must understand that they have committed a serious blunder," he said.