ISTANBUL — More than a week after protests began sweeping Turkey, demonstrations showed no sign of abating on Monday with protesters gathering again in Taksim Square. Barricades of rubble hindered traffic alongside the Bosphorus waterway and blocked entry into the area. Leftist groups hung out red and black flags and banners calling on Turkish Prime Minister Tayyip Erdogan to resign and declaring: "Whatever happens, there is no going back."
What began as a small sit-in over the Turkish government's plan to demolish a park in central Istanbul in favor of a shopping arcade has morphed into the biggest protest movement against Erdogan since he was elected more than 10 years ago.
On Monday, a confederation of unions claiming some 240,000 members added its voice to the anti-Erdogan chorus, saying it would go on strike against what it called the "fascism" of Erdogan's ruling party.
Erdogan has dismissed the protests as the work of secularist enemies never reconciled to the mandate of his AK party, he accused anti-government protesters on Monday of walking "arm-in-arm with terrorism", remarks that could further inflame public anger after three days of some of the most violent riots in decades.
"This is a protest organized by extremist elements," Erdogan said at a news conference before departing on a trip to North Africa. "We will not give away anything to those who live arm-in-arm with terrorism."
He has angrily rejected comparisons between street protests in Turkey and the Arab Spring uprisings amid continued clashes between police and demonstrators.
His remarks came shortly before reports emerged of the first protester death since the street anger erupted on May 31.
The Turkish doctors' association TBB said a 20-year-old protester died when he was hit by a taxi in Istanbul. It was unclear when the incident occurred.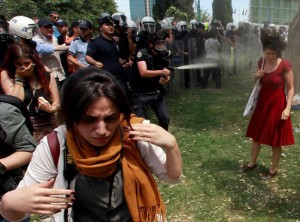 Hundreds of demonstrators and police have been reported injured, and the arrest total was nearing 2,000, many of them detained and then released.
The demonstrations began on May 31 over what was felt to be excessive police force against protesters holding a sit-in to prevent the uprooting of trees in Istanbul's Taksim Square, but have since spiraled.
Protesters accuse Erdogan's Islamic-rooted AKP of gradually imposing Islamic rule on a staunchly secular Turkey.
One week before the protests began, Turkey banned alcohol advertising and placed restrictions on its sale.
Calls for restraint during the protests from Turkey's NATO allies Britain, France, and the United States were echoed by the European Union, whose foreign policy chief, Catherine Ashton, condemned the "disproportionate use of force" by police.
U.S. Secretary of State John Kerry, speaking at a press conference in Washington on June 3, said the United States was troubled by reports of excessive force by police and "deeply concerned" by the number of people injured in the antigovernment protests.
Kerry also called for an investigation into the violence and urged all sides to "avoid any provocations or violence."
The unrest delivered a blow to Turkish financial markets that have thrived under Erdogan. Shares fell more than 10 percent and the lira dropped to 16-month lows.