DAMASCUS — Syrian President Bashar al-Assad received Thursday the Minister of Foreign Affairs of Armenia, Ararat Mirzoyan.
President al-Assad voiced his gratitude for Armenia's decision to send rescue teams and relief aid for the quake-affected people, stressing that the ties binding Syria with the Armenians all over the world are historical.
The President noted that building good relationships and alliances between states with shared principles are important for overcoming the challenges and changes.
Minister Mirzoyan conveyed the condolences of Prime Minister of Armenia Nikol Pashinyan and the Armenian people, asserting that his country cannot but stand by the Syrians and offer them aid. He noted that Armenia still remembers Syria's support when Armenia was struck by a powerful earthquake in 1988·
The Foreign Minister added that Syria is homeland for thousands of Armenians who still live there.
Issues on regional and international security were also discussed.
The Foreign Minister of Armenia briefed the President of Syria on the recent developments in the normalization process of Armenia-Azerbaijan relations, as well as the dire humanitarian situation resulting from the illegal blockade of the Lachin corridor by Azerbaijan.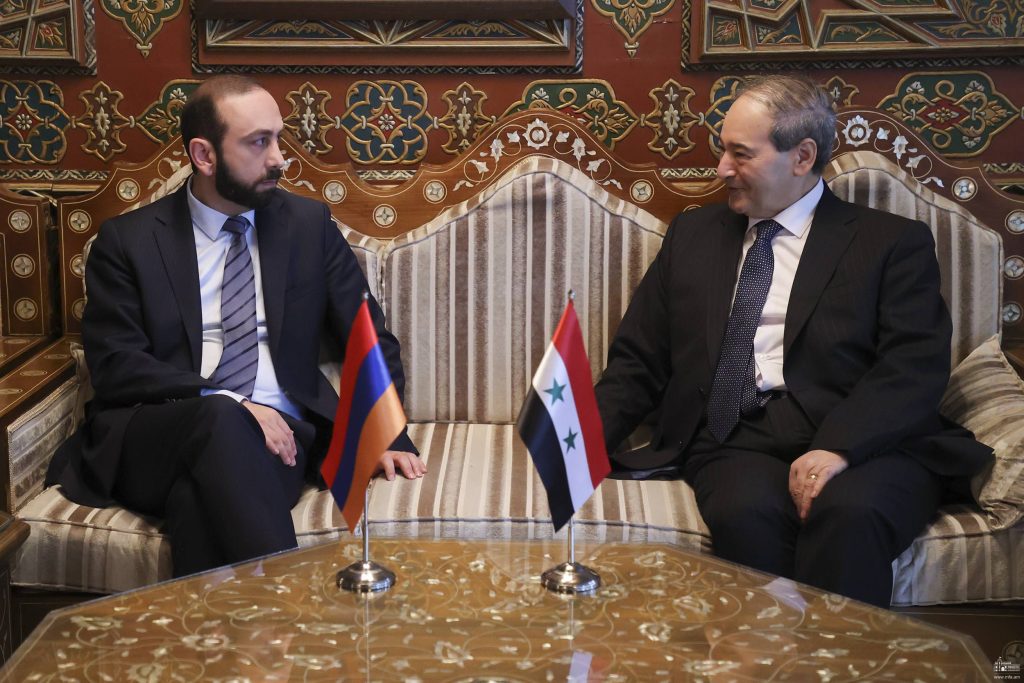 Armenian, Syrian FMs discuss bilateral cooperation, regional issuesArmenian Foreign Minister Ararat Mirzoyan met with the Minister of Foreign Affairs of the Syrian Arab Republic Faisal al-Mikdad in Damascus.
Ararat Mirzoyan expressed his condolences to his colleague and the friendly people of Syria over the devastating earthquake that occurred on February 6, expressing the support of Armenia and the Armenian people. The Armenian Foreign Minister noted that the rescue teams sent by the Armenian government were among the first to arrive in Syria, adding that three batches of humanitarian aid from Armenia have already been delivered to the regions affected by the disaster.
The Foreign Ministers also discussed issues related to Armenian-Syrian cooperation in bilateral and multilateral formats. The parties noted that the relations between the two countries are based on centuries-old friendship between the Armenian and Syrian peoples. In this regard, it was emphasized that the Syrian Armenian community plays the role of a unique bridge between the two countries.
Regional security issues were also on the agenda of the meeting. Ararat Mirzoyan briefed Faisal al-Mikdad on the details of the humanitarian crisis created in Nagorno-Karabakh as a result of the blocking of the Lachin Corridor by Azerbaijan.