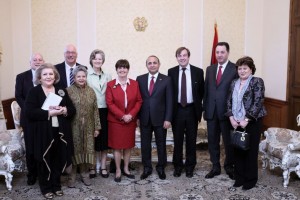 YEREVAN — On April 18 Speaker of the National Assembly of Armenia received the delegation headed by Caroline Cox, Chairwoman of the British-Armenian Parliamentary Friendship Group of the House of Lords of the United Kingdom of Great Britain and Northern Ireland.
Greeting the guest, the Armenian Parliament Speaker said Armenia attaches great importance to cooperation with thr United Kingdom in different spheres. Hovik Abrahamyan noted that parliamentary diplomacy is an important lever for boosting the political dialogue between two countries. He voiced confidence that the visit of British parliamentarians would serve as an important impetus for the deepening of relations between the two parliaments.
At the request of the guests, the Armenian Parliament Speaker presented Armenia's position on the Karabakh conflict settlement. He attached importance to the objectiveness of international organizations regarding the Karabakh issue and the exclusion of double standards.
A wide range of issues related to Armenia's domestic and foreign policies, as well as other questions of reciprocal interest were discussed.
The delegation headed by Caroline Cox is expected to visit Nagorno Karabakh.