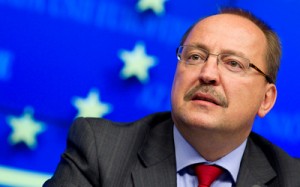 BUDAPEST (RFE/RL) — Hungary's relations with the United States have been seriously damaged by the repatriation of an Azerbaijani army officer jailed for axe-murdering an Armenian colleague in Budapest, according to a senior Hungarian government official.
Zsolt Nemeth, the state secretary at the Hungarian Foreign Ministry, acknowledged a "serious bilateral loss of confidence" with the U.S. in a Thursday interview with the "Nepszabadsag" daily cited by the Hungarian MTI news agency. That, he said, is the result of a "fundamental misunderstanding" between the two NATO allies.
A senior U.S. administration official told RFE/RL last week that the State Department is continuing to express "dismay and disappointment" with Ramil Safarov's August 31 extradition from Hungary to Azerbaijan and his immediate pardoning by Azerbaijani President Ilham Aliyev. Assistant Secretary of State Philip Gordon said Washington is "not satisfied" with official explanations given by Budapest and Baku.
The extradition has also been criticized by some pro-Armenian members of the U.S. Congress. One of them, Senator Robert Menendez, said on September 6 that the Hungarian government "must now demand the return of Safarov to complete his life-sentence."
The U.S. criticism reflects a serious blow that has been dealt by the Safarov case to international efforts to end the Nagorno-Karabakh conflict. U.S., Russian and French diplomats spearheading those efforts cited that "damage" in a recent joint statement that denounced the convicted axe-killer's release.
The mediators had planned to arrange fresh talks between the Armenian and Azerbaijani foreign ministers in New York on the sidelines of this week's session of the UN General Assembly. The Armenian side is understood to have refused those talks in protest against a hero's welcome given to Safarov in Baku. The two ministers held only separate meetings with the mediating troika.
Armenia maintains that Hungarian Prime Minister Viktor Orban's government knew that Safarov will be set free on his return home when it cut a secret "deal" with Baku earlier this year. Yerevan suspended diplomatic relations with Budapest immediately after the extradition.
Nemeth assured the Hungarian newspaper that Orban's government has received "no direct compensation of any kind" from Baku in return for Safarov's extradition. He also said that Budapest will make "every effort" to normalize relations with Armenia and believes this can be done in the next few months.
The Hungarian Foreign Ministry urged Yerevan to restore diplomatic ties "without precondition" in a note sent on Monday. The Armenian Foreign Ministry rejected the offer, saying that it expects unspecified "practical and clear steps" from Budapest.
A Hungarian Foreign Ministry spokesman rejected the Armenian "preconditions" on Wednesday. "There is not much else we can do now," he said, according to an MTI report cited by Politics.hu.