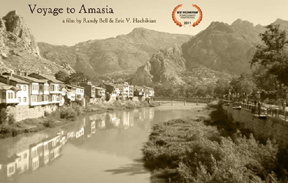 BOSTON — Voyage to Amasia, a new documentary film by Randy Bell and Eric V. Hachikian, will have its Boston premiere at the historic Studio Cinema in Belmont on Sunday, October 28 at 2:00pm. The film had its world premiere at the Pomegranate Film Festival in Toronto in December 2011, where it won the prize for Best Documentary. It has also screened at the 2012 Golden Apricot International Film Festival (Yerevan, Armenia), Minneapolis International Film Festival and the Philadelphia Independent Film Festival, and in November it will screen at the St. Louis International Film Festival.
Voyage to Amasia documents composer Eric Hachikian's return to his ancestral home – Amasia, Turkey – nearly 100 years after Ottoman soldiers deported his grandmother, Helen Shushan, during the Armenian Genocide. A long-time Belmont, MA resident, Helen Shushan was active in many local cultural and educational organizations, including those sponsoring this event. The film is set to Eric's piano trio of the same name, which provided the initial inspiration for the documentary. Voyage to Amasia traces a path through the past, honoring Eric's relationship with his grandmother and uncovering what her family's life in Turkey might have been like. It also explores how the events of nearly a century ago continue to strain the relationship between Armenians and Turks today. Inspired by one family's story, the filmmakers embark on their own journey in the hopes of finding a greater understanding between two peoples still at odds.
Randy Bell is a Washington, DC-based independent filmmaker. His documentary films, which explore subjects as diverse as American popular music, mid-century European modernist architecture, and the AIDS orphan crisis in Kenya, have won awards from the Cleveland International Film Festival, the New England Film and Video Festival, and the Ivy Film Festival. He received his Bachelor of Arts from Harvard University in 2000, and his Master in Public Policy from the Harvard Kennedy School of Government in 2010.
Eric V. Hachikian is an Armenian-American composer whose music has been hailed by the New York Times as "lovely and original." His compositions and orchestrations can be heard in a variety of major motion pictures, network television shows, and national and international ad campaigns. They have been performed at Carnegie Hall, at New York's Boston's Symphony Hall, at The Getty in Los Angeles, and Off-Broadway in New York City. A classically-trained composer, as well as a self-taught DJ and perpetual student of world music, Eric's musical style has no boundaries, and his multi-genre interests result in a unique and personal sound.
There will be a reception following the film with an opportunity to speak with the directors, Mr. Hachikian and Mr. Bell. In honor of Helen Shushan's commitment to the community, this event is being jointly sponsored by the Armenian Library and Museum of America, the Friends of Armenian Culture Society, the National Association for Armenian Studies and Research, and the Armenian Cultural Foundation, and admission is free and open to the public.