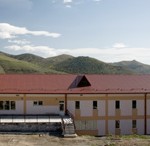 Yerevan, Armenia – Armenia Fund (Hayastan All-Armenian Fund) is proud to announce that the construction of the Zangezur Regional Cardiological Center in Goris is complete.
The project, valued at more than $1.2 million USD, was financed jointly by the French affiliate of Armenia Fund – Fonds Armenien de France, Marseille-based French-Armenian Doctors' Association – Association de Sante Franco-Armenienne, and Bouches-du-Rhune, a large administrative area within the region of Provence-Alpes-Côte d'Azur of France. Saad Hariri, Prime Minister of Lebanon, also participated in the project with a sizable donation. A considerable portion of the financing was provided through a bequest of a French-Armenian benefactor, Mr. Krikor Shahinian.
"While the construction and renovation of water and gas networks, schools, kindergartens, libraries, and cultural centers remain priorities for Armenia Fund, the development of healthcare facilities has seen a marked boost – reconstruction of Regional Hospital in Noyemberyan, St. Mary's Medical Center, Nork Infectious Disease Hospital and Kanaker Zeytun Hospital in Yerevan, Maternity Ward in Abovyan – all these project were completed this year," – said Ara Vardanyan, Executive Director of Hayastan All-Armenian Fund.
The Zangezur Cardiology Center is the only heart clinic in the South of Armenia which will be serving Armenia's Syunik and Vayots Dzor region as well as the entire population of Nagorno Karabakh. The two-story facility features Departments of Echocardiography, Electrocardiography, Radiology, Angiography and Angioplasty, The center also has an Intensive Care Unit, an Emergency Room, a Laboratory and eight patient rooms with 14 beds. The Clinic has an autonomous boiler house with a dedicated water line.
"The French benefactors, particularly specialists representing the French-Armenian Doctors' Association, chose Syunik as the site of the future cardiology center after an extensive study of the region's geographical location, existing medical facilities, and areas of need. Ultimately Goris was chosen for its proximity to Kapan, Sisian, and Artsakh alike," – said project coordinator, heart surgeon Dr. Mher Sousani.
More than 50 new cases of acute coronary syndrome (ACS) and heart attacks are registered in the Syunik Region alone every year. If treatment is not administered within an hour or two, patients have little chance to survive. Before the opening of the Zangezur Cardiological Center, acute heart patients had to be transported to Yerevan – more than 3 hours away from Goris and 5-7 hours from Artsakh, depending on the region and time of year. The Zangezur Cardiology Center will be able to simultaneously administer up to 6 emergency procedures as well as provide care to up to 16 inpatients and 20 outpatients at a time.
The clinic's personnel will include experienced physicians who have concluded medical residencies at the Yerevan Nork-Marash Medical Center. The medical staff will consist of 45 professionals, who will collaborate with the French-Armenian Doctors' Association, who will be providing on-going trainings.
Armenia Fund, Inc., is a non-profit 501(c)(3) tax-exempt corporation established in 1994 to facilitate large-scale humanitarian and infrastructure development assistance to Armenia and Nagorno Karabakh. Since 1991, Armenia Fund has rendered more than $200 million in development aid to Armenia and Nagorno Karabakh. Armenia Fund, Inc. is the U.S. Western Region affiliate of "Hayastan" All-Armenian Fund. Tax ID# 95-4485698