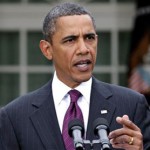 WASHINGTON, DC — President Barack Obama has expressed his  "deeply concern" over Azerbaijan's pardon of convicted soldier Ramil Safarov who axed Armenian lieutenant, Gurgen Markarian  to death, the White House said Friday.
Azerbaijani President Ilham Aliyev issued an order that killer Ramil Safarov "should be freed from the term of his punishment" directly after he arrived earlier on a plane from Budapest, where he had been serving a life sentence for the 2004 murder.
"President Obama is deeply concerned by today's announcement that the president of Azerbaijan has pardoned Ramil Safarov following his return from Hungary," said National Security Council spokesman Tommy Vietor.
"We are communicating to Azerbaijani authorities our disappointment about the decision to pardon Safarov," Vietor added in a statement.
"This action is contrary to ongoing efforts to reduce regional tensions and promote reconciliation. The United States is also requesting an explanation from Hungary regarding its decision to transfer Safarov to Azerbaijan."
US State Department Statement
The State Department also reacted to the pardon of Safarov.  In a press statement  Patrick Ventrell, Acting Deputy Spokesperson, Office of Press Relations said, "The United States is extremely troubled by the news that the President of Azerbaijan pardoned Azerbaijani army officer Ramil Safarov, who returned to Baku today following his transfer from Hungary. Mr. Safarov had been serving a life sentence in a Hungarian jail for murdering Armenian officer Gurgen Margaryan during a 2004 NATO training event in Budapest.
We are expressing our deep concern to Azerbaijan regarding this action and seeking an explanation. We are also seeking further details from Hungary regarding the decision to transfer Mr. Safarov to Azerbaijan.
We condemn any action that fuels regional tensions".
Rep. Schiff Statement on Azerbaijan's Decision to Pardon Ramil Safarov
Rep. Adam Schiff (D-CA) released the following statement: "I was deeply disturbed to learn of the repatriation and subsequent pardoning of Ramil Safarov, who was convicted of killing Armenian Army officer Gurgen Margaryan. Hungary, where Safarov was supposed to be serving a life sentence, and Azerbaijan owe the international community an expanantion for this terrible subversion of justice. This is an appalling result in the case of a confessed killer."