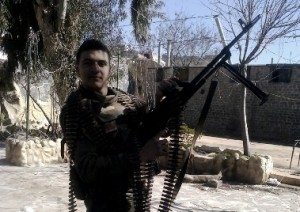 Two more Armenian community member servicemen became victims of the continuing clashes between Governmental forces and armed rebels in Syria.
Jalal Melkonian born in 1992 from Hasaka city died while serving in Syrian Army near city of Homs. Another soldier Raffi Ibrahim Kadmus who was born in the city of Tel Abyad was also killed during clashes in Homs. They became the fifth and sixth victims of the violence in the country.
The ongoing conflict in Syria lasting already for fifteen months, has had grave consequences on the local Armenian community.
Besides the human losses, Armenian community has suffered much damage: Homs based Armenian school and church were bombarded by the opposition forces and later served a kind of shelter and rest place for the initiators.