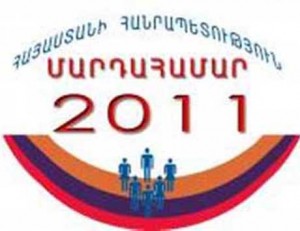 YEREVAN — At a press conference Tuesday head of the National Statistical Service of Armenia, Stepan Mnatsakanyan said that the results of last October's census show a population of 3,285,767, but that the number did not reflect those who are out of the country – primarily in Russia.
Armenia's "real" population is believed to be 2,871,509, some 400,000 less than the official 3.2 million.
"We will have the number of the permanent population after deducting the number of those temporarily present in the country and adding the index of those who were absent up to 1 year. Then we will make recoding, enter the data and the program will process all the questionnaires. This process will be over in October 2012," Mnatsakanyan said, adding that some information on absent families had been gathered from neighbors and other sources.
The previous 2001 census showed Armenia's population makes 3,458,303.
During the last ten years 173,000 left the Republic, while 12.6% of enumerated citizens are out of Armenia.