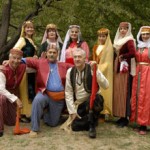 By Sylvia Kalishian
The Aradzani Dance Group of The Armenian Church of The Holy Martyrs in Bayside New York has produced a two part instructional dance DVD entitled "A Trip Through Historic Armenia Through Dance." The DVD is a travel log of Historic Armenia starting in Dikranagerd and ending in Gesaria. There is video and slide footage of each town and interviews with four survivors of the Armenian Genocide. Robert Haroutunian the group's director explains the steps of each dance followed by a performance of the same dance by the Aradzani Dance Group.
The dances presented on the DVD are endangered and are from the following towns and villages of pre-1915 Historic Armenia:
Dikranagerd, Ljeh, Chnkoush, Palu, Palu-Havav Village.
Kharpert, Charsanjak, Peri, Malatya, Arapgir, Agn.
Shabin-Karahisar, Divrig, Sepasdia various villages.
Gesaria villages of Chomakhlu and Tomarza.
The Aradzani Dance Group is an ethnographic dance group whose objective is to preserve and perpetuate songs and dances of pre-1915 Historic Armenia. The group has a repertoire of 120 dances most of which are endangered. Director Robert Haroutunian worked very hard in the research and production of this DVD. He gathered the dances presented on this DVD primarily from the late Arsen Anooshian (last director of The Armenian Folk Dance Society), Gary and Susan Lind-Sinanian dance researchers and teachers from Watertown Massachusetts, Tom Bozigian dance researcher and teacher from California, and Rudik Haroyan dance researcher and teacher from Armenia. He spent many hours learning these dances and doing research about towns and regions of Historic Armenia. He also gathered dances from people who had ancestry from Historic Armenia. The four genocide survivors interviewed on this DVD are from Palu, Shabin-Karahisar, Sepasdia and Nigdeh. This DVD is part of Aradzani's ongoing project of documenting all of the dances on its repertoire for future generations.
The DVD can be purchased from the following bookstores:
Massachusetts:
ALMA Gift Shop in Watertown (617) 926-2562
NAASR Bookstore in Belmont (617) 489-1610
New York:
St. Vartan Bookstore at the Diocese New York City (212) 686-07110
The Armenian Church of The Holy Martyrs Bookstore in Bayside (718) 225-0235
Michigan
St. John's Armenian Church Bookstore in Southfield Michigan (248) 569-3405
California:
Abril Bookstore in Glendale (818) 243-4112
Berj Bookstore in Glendale (818) 244-3830
Sardarabad Bookstore in Glendale (818) 500-0790