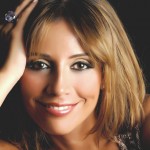 NEW YORK — Talented young Armenian vocalist Sibil whose angelic voice has been enjoyed all over her native Istanbul, will hold her East Coast debut concert on March 31st 2012, at Bergen County Academies in Hackensack, NJ. The program promises to be an unforgettable one with a live orchestra and a special guest performance by Shushi Dance Ensemble of St. Vartan Cathedral, NY.
Sibil discovered her love for music in the Armenian Church at a young age. She realized her lifelong dream when she released her first CD with the help of a very talented group of musicians led by renowned director and composer Majak Tosikyan, who will be a special guest at this event. Most recently, Sibil's unique voice echoed in the historic Holy Cross Armenian Church on the island of Akhtamar, and captivated the audience at the opening and closing ceremonies of the Pan Armenian games in Yerevan. Her TV appearances and music videos attracted thousands of fans and exposed her to a larger audience all over the world. Soon, she will be performing in Los Angeles with her pianist Burak Bedikyan at a special event sponsored by the Organization of Istanbul Armenians.
Under the astute volunteer leadership of artistic director and choreographer, Seta Paskalian-Kantardjian, Shushi Dance Ensemble has had numerous successful performances both in the United States and abroad with renowned musicians and vocalists. Shushi has performed in Armenia three times, Karabakh, Montreal, Toronto, Jordan, Syria, Lebanon, Armenian Heritage Cruse, and all across the United States. In July of 2012, Shushi will conclude its 20th anniversary celebration with a South American tour, with performances in Argentina and Uruguay, hosted by their local AGBU chapters.
Tickets for the March 31st event in New Jersey are priced at $50, $35 and $25 and can be secured by calling Adi Abdo (973) 761 1544, Arpi Misserlian (973) 907 2898, Linda Araz Berenson (201) 561 0172, Margrit Hamparsoumian (914)686 0840, Lusin Garabedian (718) 776 9513, Hilda Biosyan Sheshedian (516) 864 6966.