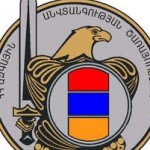 YEREVAN — Three Armenian citizens have been charged with high treason and three others accused of failing to report to law-enforcers that they knew that they collaborated with Azerbaijani intelligence service.
According to the website of the Office of General Prosecutor, the prosecutor overseeing that investigation has confirmed the indictment.
The investigation revealed that K. Mehrabyan, R. Matevosyan and A. Chtrkyan were recruited by officers of Azerbaijan's intelligence service during a visit to Turkey.
The three were offered to collaborate with them in exchange for money. They received tasks to find and provide the Azerbaijani intelligence service information about armed forces in Armenia and Nagorno Karabakh.
The investigation also found out that Armenian citizens K. Petrosyan, A. Avetikyan, and D. Avetikyan were aware that K. Mehrabyan had agreed to find the required information and transfer it to Azerbaijani officers in exchange of payment but failed to inform Armenian law-enforcers.
The case was sent to the Court of First Instance of Yerevan's Nork-Marash administrative district on November 15 for examination.