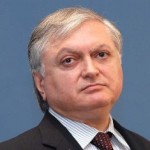 YEREVAN — Armenian authorities have repeatedly stated that the fact of the Armenian Genocide and the importance of its international recognition and condemnation has never been and can never be put into question, Armenian FM Edward Nalbandian said in an interview to Dutch De Volkskrant newspaper in Hague.
In response to the journalist's report on the process of the international recognition of Genocide, Armenian FM in particular, slammed Turkish Foreign Minister Ahmet Davutoglu for his recent statement on the establishment of a committee of historians to look into the "1915 events" made while his meeting with his French counterpart. Nalbandian called the statement an attempt to compromise the position of France and other states and international organizations on Genocide recognition.
It is nothing else but continuation of a dangerous denial policy, about which French President Nicolas Sarkozy made a clear statement in Armenia, Nalbandian added.
Regarding Turkish FM Ahmed Davutoglu's claims that Turkish PM Erdogan's letter addressed to the Armenian former President Robert Kocharian was left unanswered in 2005, Nalbandian said that Kocharian has sent an answer, which was published on April 25, 2005. Both Turkey and international community are well aware of the content, except for several people, Davutoglu among them, Nalbandian concluded.