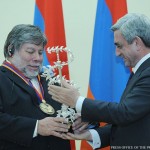 YEREVAN — Visiting co-founder of Apple Computer Inc Steve Wozniak has said he will tell Americans about the intellect of Armenians upon his return home.
"When I was young I was inspired by the stories I heard about other people doing things… This great IT award is bringing some of those stories and inspiration to young Armenian engineers," he said. "I want to go back home, and I want to take the stories about the resources here, the intelligence, the technology community and tell them to consider expanding, setting up development facilities and training facilities [in Armenia]."
Speaking to reporters on Friday, he said that deprived of many things Armenia, however, has declared the sector of internet technologies as a priority and is sparing no efforts to reach that goal.
"Looking at Armenians I consider myself as one of you," said Wozniak. "Once I return home, I will tell them about the Armenian intellect."
"It's hard to say that 'we are Armenia and we are declaring IT sector as a priority'. But Armenia has aspirations," he said.
At the press conference, Wozniak made a case for nurturing creativity among young people in Armenia as a way to bring success to the country's IT sector.
He said even his recognition in Armenia could also become a source of inspiration for local commencing engineers.
Wozniak received a state award from President Serzh Sarkisian on Friday at the end of a two-day visit to Armenia. Wozniak is the second person to be awarded by an Armenian president. The first award went to former President of Intel Corporation Craig Barrett.
Further, Wozniak said it was symbolic for him that such an award has been set up by Armenia.
"There is no Nobel Prize in computing. It is symbolic for me that such an award has been set up by the Republic of Armenia. Why? Perhaps, because here there are those youth who can create," explained Wozniak.
"And the fact that it is the country's president who awards the prize underlines its importance," said Steve Wozniak.
Wozniak is credited with inventing the Apple 1 and Apple 2 computers in the mid-1970s, which kicked off the personal computer revolution. He left Apple in 1987, after 12 years with the company. In the years since, besides becoming a prominent philanthropist, Wozniak has also invented the first programmable universal remote control, helped create the first wireless Global Positioning System, and nurtured the development of several technology start-ups. He is now the chief scientist for Fusion-io, a data storage and server company.