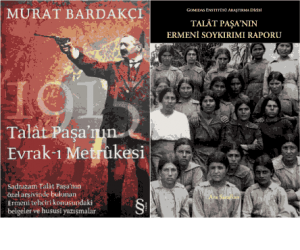 by Nora Vosbigian
LONDON – The recent publication of "Talaat Pasha's Report on the Armenian Genocide" by Ara Sarafian (Gomidas Institute, 2011) has prompted an angry outburst from the Turkish historian Murat Bardakci. According to Bardakci, who denies the Armenian Genocide, Sarafian's work is based on plagiarism and outright theft (HaberTurk 8.Aug.2011).
Bardakci in 2008 published a report from the long-hidden private papers of Talaat Pasha, one of the main architects of the Armenian Genocide. In a September 5 interview with the Turkish Daily News, Sarafian explained that Bardakci's original presentation of the document was shallow, flawed, and misleading. Sarafian says the Turkish historian is "simply uncomfortable" with what the document actually shows.
Sarafian has labeled the report "probably the single most important document ever uncovered describing the destruction of Armenians in the Ottoman Empire in 1915–17."
Drawing on Ottoman documents from Turkish archives, Sarafian has published a critical analysis of the report in question. "Talaat's possession of such a document is highly significant," says Sarafian, "especially as it is a report, based on official Ottoman records, on the Armenian Genocide."
Sarafian will release the Turkish translation of his work in Istanbul on 25 September 2011 with the support of Insan Haklari Dernegi (Istanbul) and Anadolu Kulturu. The English edition of "Talaat Pasha's Report on the Armenian Genocide" is available for free download at www.gomidas.org.