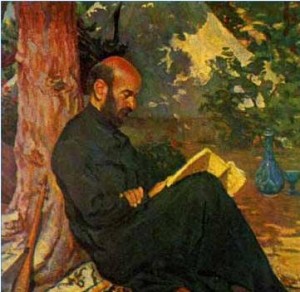 Throughout the ages humanity has both praised and condemned those of distinction with uncertain reverence for the person underneath the veneer. Those special few have no choice in the matter. They can only live their lives the way it must play out. One such special individual, 'Komitas Vartabed,' an Armenian priest, singer, choir director, composer, musicologist, music ethnologist, and music pedagogue, experienced a life filled with the passion of dreams pursued. The world has proclaimed him as the Armenian Beethoven!
Tragically, Komitas also witnessed the devastation of that dream during the calamity of the Armenian Genocide in the years 1915 – 1923 in Ottoman Empire of Turkey.
Written and directed by David Robert Deranian, PhD and co-produced with Dr. Charles Andrews, and with editing by Austin Hines and sound by Steve Urspringer, the film highlights the amazing life of Komitas as told through different perspectives of music, history, psychology and religion.
John Chookasian, of the "Chookasian Armenian Concert Ensemble," speaks about Komitas through his musical, historical expertise and artistic passion; noting that Komitas traveled for years, from village to village, transcribing and saving over 3,000 + Armenian folk songs that would have ordinarily been lost forever.
Mihran Toumajan, who is the grand nephew of one of Komitas's select students, describes Komitas in terms of the history and politics of the time. Dr. Scott Asmar gives an interpretation of the emotional state of Komitas based on the suffering he endured during the years of the Genocide. Rev. Datev Tatoulian speaks of how Komitas's music has shaped the spiritual and and cultural elements of the Armenian people.
A related feature film is currently in development that tells the true story about Komitas and the other 200+ Armenian intellectuals/leaders that were arrested on April 24, 1915 for deportation to death camps, thus initiating the start of the Armenian Genocide, perpetrated and executed by the Ottoman Turkish Government.
Notwithstanding a history of animosity between Turks and Armenians, there have been enlightened moments when some Turks and Armenians worked together to do what was right. Rescuing Komitas from the death camps was one such moment. Besides telling the horrifying story of the Armenian Genocide, the film is also meant as an alternative model to Turks, that instead of backing the ill-conceived denial of the Armenian Genocide, they can instead take heart that there were Turkish heroes that risked all to save Armenians during 1915 to 1923. This film tells just such a story.