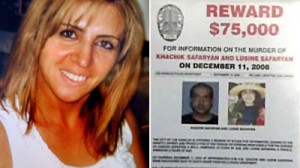 A grand jury indictment was unsealed Monday against a former Armenian army soldier accused of killing four people.
Those killed included the family of a woman he allegedly was obsessed with and a prostitute on Sunset Boulevard.
Alberd Tersargyan, 65, was arrested last year shortly after the body of Karine Hakobyan was discovered by her teenage daughter slumped in the front seat of her car in Little Armenia. She had been shot at close range.
Fifteen months earlier, the same daughter had come home to the family's apartment to find the bodies of her father, Khachik Safaryan, and her younger sister.
The four-count murder indictment returned Aug. 26 claims the daughter witnessed her father's killing. The special circumstance makes Tersargsyan eligible for the death penalty. Read more here.