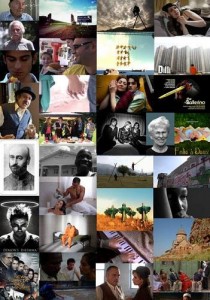 The 14th annual Arpa International Film Festival is to be held in the heart of Hollywood at the historic Egyptian Theatre.
The 3-day fest (September 22-24, 2011) offers a dynamic mix of features, documentaries, short films and music videos with topics ranging from Diaspora, human rights, and war as well as some good old fashioned entertainment. 30 films including 6 features, 11 shorts, 9 documentaries, 3 music videos, 1 animated film and World, North American, and West Coast premieres. The roster includes works from award-winning filmmakers includingBraden King, Mahsun Kirmizigul, Lars Knudsen, Jay Van Hoy, Marc Fusco, Michael Garrity, Levon Minasian, Eric Nazarian, Vahik Pirhamzei, Bryan Single, Steve Skrovan, Fred Stoller and Hrag Yedalian.
The Festival is dedicated to independent filmmakers that cultivate cultural understanding and global empathy. "We will present a worldwide line-up of dynamic films highlighting issues of Diaspora, human rights, and war as well as some good old-fashioned entertainment," states Armen Toumajan, Arpa's Director of Programming. "We are exceedingly impressed by the quality of this year's program and applaud our filmmakers for their singular vision and dedication to their craft."
Countries represented include Afghanistan, Armenia, Australia, Canada, France, Greece, Israel, Palestinian Territories, Syrian Arab Republic, Turkey, Uganda and USA.
Fest opening night film on Thursday, September 22 marks the Los Angeles premiere of the romantic road movie HERE, directed by Braden King (Dutch Harbor: Where the Sea Breaks Its Back), followed by a Q&A with King and the film's co-writer Dani Valent. HERE follows the story of two loners – an Armenian art photographer and an expatriate American satellite-mapping engineer (played by Lubna Azabal and Ben Foster), who meet and are instantly attracted to each other. They become travelling partners embarking on a journey of self discovery and personal transformations.
This year's Centerpiece Film and making its N. American premiere on Friday, September 23 is the hilarious comedy MY UNCLE RAFAEL directed by Marc Fusco, a protégé and former assistant to Steven Spielberg. The film is the first American comedy in history to feature an Armenian character in the lead role–with an Armenian backdrop. Vahik Pirhamzei, who portrays film's titular character, will receive the Festival's2011 Breakthrough Performance Award. Cast, director and producers will be on hand for a Q&A following the screening.
The Festival's closing night film heralds the N. American premiere of Mahsun Kirmizigul's (SAW THE SUN) action/drama FIVE MINARETS IN NEW YORK starring Haluk Bilginer, Mustafa Sandal, andMahsun Kirmizigul. The film also stars Danny Glover, Gina Gershonand Robert Patrick. Minarets follows two Turkish police officers sent to New York to bring back a terrorist. The film was one of the highest-grossing Turkish films of 2010.
This year's recipient of the AT&T Award for Environmental Conservation and Stewardship is the compelling documentary "Marion Stoddart: The work of 1000" by Susan Edwards. The film chronicles the advocate Marion Stoddart who lived next to one of America's most polluted rivers and transformed herself from a 1960s housewife to a citizen leader and environmental hero honored by the United Nations.
Accepting the Armin T. Wegner Humanitarian Award will be documentary filmmaker and producer Bryan Single on behalf of his acclaimed CHILDREN OF WAR. The documentary, set in Uganda, had its world premiere last fall at the United Nations in New York. Single will be on hand to accept the honor which will be presented following the film's screening.
Festival Presenting Sponsor AT&T Real Yellow Pages YP.COM will hand out the AT&T Award for Environmental Conservation and Stewardship. "AT&T YP.com is honored to be the Presenting Sponsor of Arpa International Film Festival" says Laura Wills Ochoa, Southern California Area Marketing Manager. "AT&T commends AFFMA for its tireless efforts to promote the growth and development of the arts in Los Angeles and beyond."
MARION STODDART: THE WORK OF 1000 and CHILDREN OF WAR will screen consecutively on Saturday, September 24 beginning at 3pm and will be free to the public.
Awards for Best Feature, Documentary, Short, Screenplay and Director will be handed out throughout the festival.
Full schedule of films and events can be found here.