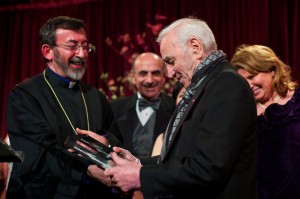 By Taleen Babayan
Only the rare individual can conquer the international music scene while using his renown and resources to improve the lives of people around the world.
Such a man is Charles Aznavour—whose music has bridged two centuries and countless international boundaries, and whose humanitarian efforts have elevated cause of vulnerable people in Armenia and elsewhere.
In recognition of such lifetime achievements—and to mark the 20th anniversary of the Republic of Armenia—Mr. Aznavour was honored by the Fund for Armenian Relief (FAR), at Cipriani's Wall Street Restaurant in New York City, on Friday evening, May 20, 2011.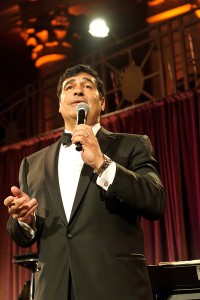 More than 600 people attended to pay homage to one of the world's most successful musicians, who has achieved the pinnacle of fame without forgetting his Armenian roots. During a lavish banquet, guests, dignitaries, artists, and musicians from around the globe recognized Aznavour for his philanthropy and for his efforts in improving lives in Armenia over the past two decades.
"Our love for Armenia keeps us glued together," said Randy Sapah-Gulian, chairman of FAR, in his welcoming remarks. "And we are here tonight to honor an artist, a visionary, a man of great integrity and Armenia's favorite son: Charles Aznavour."
Aznavour's initiatives in Armenia in the immediate aftermath of the 1988 earthquake in Spitak and Gyumri, which left death and destruction in its wake. In response to a disaster that claimed 50,000 lives, the singer and his long-time producer Levon Sayan established Aznavour Pour l'Armenie, a foundation that provided a way for the singer to send relief aid to Armenia.
Helping shift the world's focus to the suffering of Armenians, he gathered 89 artists in the months after the earthquake to record the pop single "Pour Toi, l'Armenie" ("For You, Armenia"), an international hit and chart-topper, which sold two million copies in France alone.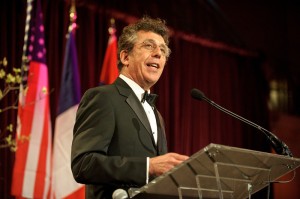 Liza's loving tribute
Eric Bogosian, the critically-acclaimed actor and author, served as a witty and urbane Master of Ceremonies for the elegant, fast-paced program. Mr. Bogosian spoke of Aznavour's talents, his accomplishments as a singer and actor, and of his philanthropic works—all of which have combined to make him a uniquely beloved figure in the worldwide Armenian community.
"Tonight is truly pour toi, Charles," said Mr. Bogosian, who had a chance to work alongside Aznavour in Atom Egoyan's 2002 film Ararat. "Tonight is the community's tribute to a man who has inspired us, and who we love and respect."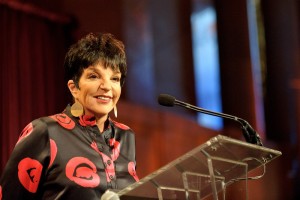 Liza Minnelli, a student and long-time friend of Aznavour's, who also chaired the Honorary Committee for the FAR tribute, welcomed her mentor onstage to receive his award from FAR.
In a touching short film documenting Charles Aznavour's achievements, screened before the audience on the occasion, Miss Minnelli described her early worship of Aznavour's singing and performing style, which evolved first into a student-teacher relationship, and eventually into a series of international artistic collaborations. She recalled his pride in being Armenian, and the determination he showed when disaster struck his homeland in 1988.
"When he put all his passion, all his time and stubbornness, into helping Armenia—it was spectacular," she said.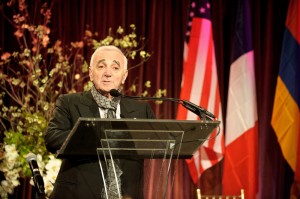 At Liza Minnelli's introduction, the crowd rose to its feet to welcome the evening's honoree, who walked onstage with his famous Gallic swagger, and expressed his gratitude for the gala tribute.
"It is moving to be honored by your own community," said Aznavour, in brief but poignant remarks. "Thank you for honoring me, and thank you for our country."
An enduring legacy in Armenia
Charles Aznavour's humanitarian efforts in Armenia have outlived the earthquake crisis, and continue to aid the needy and vulnerable as the country develops as an independent republic.
His concerts have raised money for important causes throughout Armenia, including child protection, education, healthcare, and especially the care of Armenia's elderly citizens.
Awakened early on to the precarious living conditions of senior citizens in Vanadzor (Armenia's third-largest city), Aznavour Pour l'Armenie established the Vanadzor Old Age Home. A decade ago, by agreement with the Aznavour foundation, the Fund for Armenian Relief began overseeing the operations of the home, and receives generous support in this effort from the Kevork and Sirvart Karamanuk Foundation. At present, 55 local senior citizens live and are cared for by 30 staff members at the Vanadzor Old Age Home.
Mr. Aznavour's humanitarian endeavors have also reached beyond Armenia. Following the earthquake in Haiti last year, he collaborated with 40 singers and musicians to record "Un Geste Pour Haiti Cherie" to raise money for victims.
Addressing the honoree at the May 20 event, Armenia's Foreign Minister Edward Nalbandian spoke from the heart about the man he had come to know and admire during his earlier tenure as Armenia's Ambassador to France.
"You are one hundred percent French and one hundred percent Armenian," said Minister Nalbandian, "and you can add one hundred percent world citizen. You sow seeds of love in people's souls, and in our souls."
Mr. Nalbandian went on to highlight Aznavour's strong ties to Armenia. In very personal remarks, he related the inspiration he drew from Aznavour's music, and from the singer's devotion to his Armenian heritage.
The honoree's daughter, Seda Aznavour, a talented singer in her own right, sang a song in honor of her father titled "Voch Mi Dzaghig" ("Not a Single Flower"). Ms. Aznavour's lively rendition in Armenian paid homage to her family's ongoing commitment to preserve the Armenian culture.
A gift to the world
In addition to his humanitarian work, Charles Aznavour has taken up roles in the diplomatic arena, serving as Armenia's Ambassador to Switzerland and Armenia's permanent delegate to the United Nations in Geneva. He has also been a leading voice for Genocide recognition in his native France.
A number of foreign dignitaries were among the distinguished guests at the May 20 gala, including Armenia's Ambassador to the U.S. Tatoul Markarian, Armenia's Permanent Representative to the U.N. Karen Nazarian, and Switzerland's Ambassador to the U.N. Paul Seiger.
The May 20 tribute also served to celebrate the 20th anniversary of Armenia's independence, and to highlight the many humanitarian outreach programs undertaken by FAR since its founding more than two decades ago.
Over its proud history, the organization grew and prospered under the leadership of its great founding chairman, the late Kevork Hovnanian. Initially the organization focused on medical and humanitarian assistance to the earthquake-ravaged region. But as Armenia was reborn as a free and independent republic, it was Mr. Hovnanian's determination that caused FAR to expand its projects to include housing, food and social programs, as well as economic development.
Since its founding, FAR has provided $285 million in aid to Armenia—making it one of the most effective, respected, and honored humanitarian agencies working in the region.
To conclude the tribute evening, Archbishop Khajag Barsamian, Primate of the Diocese of the Armenian Church of America (Eastern) and President of FAR, spoke of the strength that Charles Aznavour has always found in his Armenian roots. He recalled an occasion in 2001—during the celebration of the 1700th anniversary of Armenia's conversion to Christianity—when Aznavour sang Ave Maria during a requiem service at the Dzidzernagapert Genocide Memorial, leaving "everyone in tears"—including the visiting Pope John Paul II.
"Charles Aznavour is an internationally loved and respected figure, and is a great example for all of us," said Archbishop Barsamian. "Charles, your presence among us has been a gift to the world—and a gift to your fellow Armenians."
In addition to the film presentation tracing Aznavour's life and contributions to Armenia, a musical performance of Armenian songs was offered by Nina Stern (on clarinet) and Glen Velez (percussion). Anoosh Barclay sang the Armenian national anthem, and Karim Sulayman the anthems of the United States and France, which opened the evening's formal program.
The Honorary Committee for FAR's Charles Aznavour Tribute was chaired by Liza Minnelli, and included artists Tony Bennett, Celine Dion, Placido Domingo, Atom Egoyan, Arsinee Khanjian, Sir Elton John, David Furnish; Armenia's Foreign Minister Eduard Nalbandyan; New York City Mayor Michael Bloomberg, New York Sen. Charles Schumer, New Jersey Congressman Frank Pallone; Greek Orthodox Church Primate Archbishop Demetrios, Roman Catholic Archbishop of New York Archbishop Timothy Dolan, Episcopal Church Bishop of New York Bishop Mark Sisk, Appeal of Conscience Foundation President Rabbi Arthur Schneier; France's Ambassador to the U.S. Francois Delattre, France's Ambassador to the UN Gerard Araud; Armenia's Ambassador to the U.S. Tatoul Markarian, Armenia's Ambassador to the UN Karen Nazarian; Mexico's Ambassador to the U.S. Arturo Sarukhan Casamitjana; former U.S. Ambassador Edward Djerejian, Carnegie Corporation President Vartan Gregorian; Carnegie Hall Artistic Director Clive Gillinson, Lincoln Center President Reynold Levy, Juilliard School President Joseph Polisi, and President Emeritus of the World Bank James Wolfensohn.