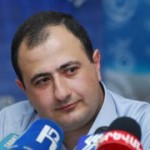 YEREVAN — Ankara's aggressive propaganda aimed at promoting its image in the region and worldwide cannot but cause concern, Turkish studies expert, Deputy Dean of the Oriental Studies Department of the Yerevan State University Ruben Melkonyan told a press conference on Tuesday. Melkonyan stressed in case Turkey fulfills its ambitions Armenia will deal with an authoritative country.
"Turkey is actively implementing the provisions of Foreign Minister Ahmet Davutoglu's monograph titled "Turkey's strategic interests" issued as early as 2001. The work prioritizes the ideology of Neo-Ottomanism,"
He noted that Turkey can not be unbiased towards Armenia and therefore its growing role in the region, as well as claims for participation in the Karabakh peace process, are unacceptable to the Armenian side.
As regards the Armenian-Turkish protocols, the expert deems Ankara's aspiration for "zero problems with neighbors" policy is unconvincing in the context of "frozen" protocols.
According to him, Turkey has managed to raise its rating in the Middle East and there is a threat that it will be trying to act as mediator in the settlement of conflicts in the South Caucasus.
Melkonyan says this is worrisome to Armenia, since Turkey can never be an unbiased mediator in the Karabakh conflict settlement.
Melkonyan considers Armenia still poses a threat to Turkey's authority. "The fact that the Armenian-Turkish border remains closed prevents promotion of Turkish policy," he added. At the same time, he believes at this stage, the Armenian side should not take serious steps, but focus on holding its positions.