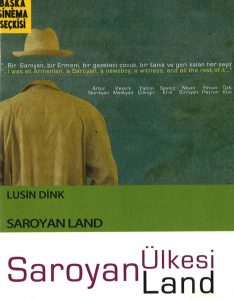 FRESNO — The Armenian Studies Program and Armenian Students Organization of California State University, Fresno are co-sponsoring the 15th Annual Armenian Film Festival, from 7:00-9:30 PM on Friday, February 17, 2017. The Film Festival will take place in the Industrial Technology Building, Room 101 (at the southwest corner of Barstow Ave and Campus Drive) on the Fresno State campus.
The featured film making its Fresno premiere is SaroyanLand (2013) (Turkey), directed by Lusin Dink. SaroyanLand is a docu-drama focusing on the journey of famous writer William Saroyan to the birthplace of his Armenian family Bitlis, in Turkey in 1964. While retaking the same road, the film aims to understand Saroyan's unique attitude to belonging, witnessing the self-discovery of a man who followed the traces of his Armenian ancestors.
The featured short film is director Anahid Nazarian's Shesh-Besh (2012), shot entirely on location in Fresno. JC & Son Automotive is an auto garage in Fresno where Armenian men and other locals gather daily to play backgammon and catch up on the local gossip. The business of the auto garage seems almost a side aspect of what is in essence a men's social club, the main focus being the game of backgammon. Those who come here continue the old country tradition of their fathers and grandfathers of meeting at social gathering places and enjoying each other's company.
Also showing will be I Hate Dogs!: The Last Survivor (2005) (Sweden) by directors PeAHolmquist and Suzanne Khardalian. Garbis Hagopian-Ghazarian is a dynamic person of 99 years old, who lives in Paris. He is one of the last survivors of the Armenian Genocide. He has a deep secret that has made him hate dogs. The film is about the art of survival.
The 15th Annual Armenian Film Festival is open to the public and admission is free. Parking restrictions are relaxed in all Lots near the venue. Parking is available in Lots P20 or P23.
For more information about the Film Festival, please call the Armenian Studies Program office at 559-278-2669 or go to our website at fresnostate.eduy/armenianstudies.