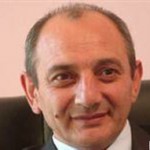 PARIS — President of Nagorno-Karabakh Republic Bako Sahakian met in Paris with members of the coordinating board of the Armenian organizations of France.
The sides discussed strengthening of the Artsakh-Diaspora relations, the Azerbaijani-Karabakh conflict settlement, as well developments in the Artsakh Republic.
The President highly assessed active participation of the French Armenian organizations in assisting both the development of Artsakh and solving issues of Pan-Armenian importance.
He stressed the republic is interested in continuous deepening and widening relations with the Armenian organizations of France.
Primate of the Artsakh Diocese of the Armenian Apostolic Church Archbishop Pargev Martirosian, Armenian Ambassador to France Vigen Chitechian, NKR minister of culture and youth affairs Narine Aghabalian and other officials participated in the meeting.