The people live in one; government officials in another
By Edik Baghdasaryan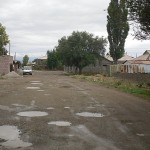 «They just can't picture where people have wound up due to their actions. They live in an alternate universe with different surroundings. They have no problem paying their gas, water and other utility bills. The thought doesn't even occur to them that 80% of the people barely survive from day to day. They have always been in power and know full well that our kids can't get decent jobs without their say-so. They can't imagine that the children of many families are ashamed to go to school because they have no shoes, school bags, or one set of clothes. The make-up of their brains has been altered. It doesn't even occur to them that tens of thousands of pensioners can't get blood pressure pills, while they jet to Europe for medical exams every time they sneeze. They have created a world for themselves filled with food, drink and pleasure. They would prefer that we humbly lower our heads, get stiffed, and never think about disrupting their "nation-building" mission. They can't get it through their heads that there is a wave of rebellion fomenting that is without leaders, uncontrollable, and that can wash away that precious world of theirs."
This is what a friend of mine, a disabled Artsakh war vet, blurted out to me the other day.
When finished, he took a deep breath, looked into my eyes and wanted to hear my response.
I remained silent, not wishing to excite him even further for he had turned red with rage. I didn't want him to fall ill, given the injury to his head. A little excitement had that effect on him.
I knew that whatever I said would get his blood a boiling. My friend knew just one way to fix the problems he was facing.
Previously, I told him that we must pressure the authorities in power to change, to retreat. But he never agreed with this opinion. To be honest, I've long ago stopped believing this as well.
I'm convinced that you cannot force the powers that be to take steps that aren't in their best interests. This is a regime which has no concept of national interest and government service.
Can you point to anyone in power today who actually thinks in terms of national and state interests? I cannot.
For them, the state is their political clique, and national interests are their business dealings.
I couldn't tell my friend Garik, that his views of what a government should be were diametrically opposed to the views of those actually in the government.
I can't muster the nerve to tell him that while he wants a denouement, a finale, to the present state of affairs, the government is tightening the noose even further. It's as if the government is actively engaged in delaying this finale forever.
Sometimes you are deceived into believing that things will change. It's merely a case of self-deception for the system is set up to guarantee its continuation.
One naive analyst recently said that Armenians would never rise-up in social rebellion. I say that such a rebellion from below has long since started.
Till now, such social anger seems to have merely manifested in the exodus from Armenia. Now, you can see and feel the growing tension when you walk the streets of Yerevan and other towns in Armenia. Even the active opposition doesn't see that, as in the words of Shakespeare, "the time is out of joint."
When I met Garik after the New Year, he asked me what the prime minister had meant when he said that all of Armenia was covered by the 3G, 4G network.
When I started to explain, Garik immediately cut me off and asked if the prime minister was aware that there were only old people left in the villages and what the heck would they do with such technology.
Tigran Sargsyan, the current head of government, differs from his predecessors in that he's talked about the "Armenian world".
But my "Armenian world, and that of Garik's, doesn't equate with that of the prime minister. There aren't even any overlapping similarities.
Our "Armenian world" is populated with common folk. Theirs is full of inanimate concepts or specters.
There are malnourished kids in our world. In theirs, there are visions of kids enrolled in Russian-language schools.
There are half-empty villages in our Armenian world. Theirs is made up of financial centers in Dilijan or plans to turn Tzaghkadzor into an Armenian version of Davos, Switzerland.
In my Armenian world, I felt like hiding under a rock when Georgian President Saakashvili exhorted Armenians not to abandon Armenia.
What should I and Garik do in order to make our officials see the real Armenia?
In the end, I had nothing in the way of an answer for Garik. He knows only one way out.