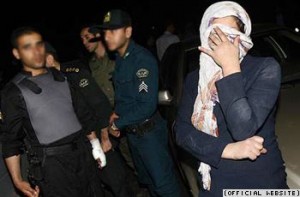 The Armenian authorities insisted on Friday that an American woman reportedly detained in Iran on suspicion of espionage did not travel to the Islamic Republic from neighboring Armenia.
The state run "Iran" newspaper reported this week that a 55-year-old U.S. citizen identified as Hall Talayan has been detained as she attempted to cross the Armenian-Iranian border. The newspaper said an espionage device was found in her teeth and she did not have an Iranian visa.
The hard-line Fars News Agency, quoting an unnamed source, reported that the woman, apparently an ethnic Armenian, was detained by customs officials a week ago.
Other Iranian news sources, including the website "Tabnak," also reported that "an American woman spy" was arrested in the town of Nordouz in northwestern Iran. The website also reported the detail about a mouth microphone and said the woman told authorities that if she returned to Armenia, she would be killed by security forces.
Iran's state-run television said subsequently that she did actually not manage to enter Iran via the border with Armenia. The station quoted a "well informed" source as saying, "This woman tried to enter the country illegally, but she was prevented from doing so." It said the woman is in Armenia.
Armenia's National Security Service (NSS), which runs all Armenian border crossings, denied this, however. "A person with that identity did not enter Armenia and could have therefore not left Armenia," NSS spokesman Artsvin Baghramian said in a written statement.
In Washington, State Department Deputy spokesman Mark Toner said the United States is seeking more information through the U.S. Embassy in Armenia and Swiss officials, who represent U.S. interests in the Islamic Republic.
"What we've heard so far is precisely conflicting reports," Toner told reporters. "So, frankly, rather than give those any kind of momentum or life, I'd rather just wait until we have the facts."
Another official at the State Department was quoted by news agencies as saying that Washington has been unable to confirm the woman's nationality.
Iranian authorities have not publicly reacted to the report, which comes amid increasing tensions between Iran and the U.S. over the continued detention of two Americans and suspicion over Tehran's nuclear program.