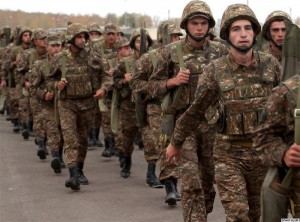 YEREVAN — Military authorities in Armenia said on Friday that they have launched a criminal investigation into the alleged beating of two civilians by a senior army officer. One of them reportedly suffered life-threatening injuries and remains a critical condition.
The Armenian Defense Ministry's Investigative Service gave few details of the incident that took place on New Year's Even at an army regiment stationed in the northeastern town of Ijevan. A service official told RFE/RL's Armenian service only that it involved a "dispute between the unit's commander and a group of civilians."
The official said the investigation is being conducted under a Criminal Code article dealing with "hooliganism." Nobody has been charged or arrested yet, he said.
The two young men, identified as Taron Yengibarian and Ashot Ulikhanian, are residents of Getahovit, a village near Ijevan. According to their relatives interviewed by RFE/RL's Armenian service, they were confronted by Colonel Sergei Karapetian while attempting to visit a friend serving in his regiment late on December 31. They claimed that Karapetian verbally abused the men and shot at their car before having them forcibly taken to his second-floor office.
Yengibarian's grandfather said they both jumped out of the office window and were hospitalized with serious injuries. He said his 20-year-old grandson suffered a fractured skull and remains in intensive care at a military hospital in Yerevan.
The violence capped a tough year for Armenia's armed forces that were rocked by a series of non-combat deaths and other grave incidents within their ranks. A public uproar caused by them led the army command to demote, fire and prosecute dozens of military personnel in recent months.
Defense Minister Seyran Ohanian has repeatedly pledged a tougher crackdown on army crimes, while maintaining that their number has considerably fallen over the past decade. Critics, among them human rights activists, say that the Armenian military is still not doing enough to tackle the problem in earnest.