YEREVAN — Foreign Minister Melanie Joly reaffirmed Canada's support for Armenia's territorial integrity when she visited Yerevan and inaugurated the Canadian Embassy there on Wednesday.
Joly hoisted a Canadian flag outside an office building in the Armenian capital that will house the embassy. Armenian Foreign Minister Ararat Mirzoyan also attended the ceremony.
The Canadian government announced its decision to open the embassy in June 2022. It said it wants to deepen Canadian-Armenia relations in view of a "profound geopolitical shift" in the world resulting from the Russian invasion of Ukraine. It said the diplomatic presence in Armenia as well as four Eastern European states will help Ottawa "counter Russia's destabilizing activities." Russia denounced that explanation, saying that it is indicative of the West's "arrogant attitude towards other countries and peoples."
Mirzoyan as well as Prime Minister Nikol Pashinyan welcomed the opening of the Canadian mission during their talks with Joly. Pashinyan described it as a "remarkable event for our bilateral relations.
"I must note with satisfaction that the relationship between Armenia and Canada is based on common values such as democracy, human rights and the rule of law," Mirzoyan said, for his part.
The Armenian leaders also praised the Canadian government's recent decision to join a monitoring mission launched by the European Union along Armenia's border with Azerbaijan in February. Ottawa said in July that two Canadian experts will be sent to the South Caucasus country in the coming months to act as a "third-party contributor to the mission."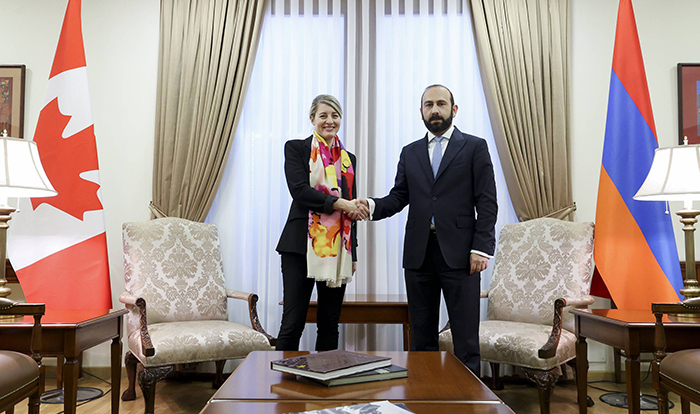 "Canada calls for the full respect of the territorial integrity of Armenia and reaffirms the importance of strict adherence to the principle of non-use of force or threat of it," Joly told a joint news conference with Mirzoyan earlier on Wednesday.
Joly alluded to the risk of an Azerbaijani invasion of Armenia which Armenian officials as well as some analysts believe increased after Azerbaijan's September 19-20 military offensive in Karabakh. She did not rule out the possibility of Canadian sanctions against Baku in the event of the invasion.
"When it comes to sanctions … I have said that everything is on the table," stressed the top Canadian diplomat.
Joly also reiterated Canada's condemnation of the Azerbaijani offensive which forced Karabakh's virtually entire Armenian population to flee to Armenia. Baku must respect "the right to return of the recently displaced Armenians from Nagorno-Karabakh," she said, adding that Ottawa has approved additional humanitarian aid to those refugees.
Just days after the outbreak of the 2020 Armenian-Azerbaijani war in Karabakh, Canada suspended the export of drone technology to Turkey. It banned such exports altogether in 2021 after investigating and confirming reports that Turkish-manufactured Bayraktar TB2 combat drones, heavily used by the Azerbaijani army, are equipped with imaging and targeting systems made by a Canada-based firm. Ankara criticized the embargo and urged the Canadian government to reconsider it.