SAMARKAND — Foreign Minister Ararat Mirzoyan and his Russian counterpart Sergei Lavrov discussed bilateral ties and the Nagorno-Karabakh conflict when they met on Friday for the third time in just over a month.
The talks took place in Samarkand, Uzbekistan on the sidelines of a regular meeting of the top diplomats of ex-Soviet republics making up the Commonwealth of Independent States.
According to the Russian Foreign Ministry, Lavrov again called for "intensifying efforts on all tracks of the Armenian-Azerbaijani normalization in accordance with the 2020-2022 agreements between the leaders of Russia, Armenia and Azerbaijan."
The Armenian Foreign Ministry said Mirzoyan again raised the issue with Lavrov and "emphasized the need to lift the blockade of the Lachin corridor."
Mirzoyan also briefed Lavrov on Tuesday's fighting on the Armenian-Azerbaijani border which left at least seven soldiers from both sides dead. He described the deadly clash as "yet another manifestation of Azerbaijan's aggressive policy."
Armenian FM Raises Lachin Blockade, Azerbaijani Aggression at CIS Meeting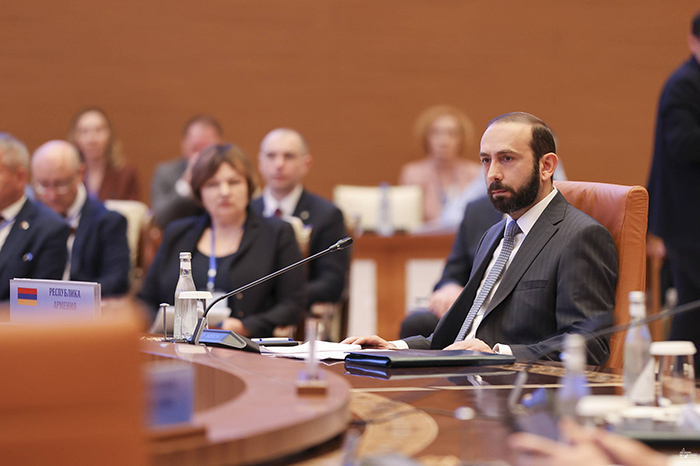 Speaking during CIS Foreign Ministers meeting, Mirzoyan said Azerbaijan's actions contradict the statements made as a result of the Prague and Sochi meetings.
"The efforts of the Armenian side aimed at stabilizing the situation and establishing a long-term peace face the continuing aggressive rhetoric of official Baku and military aggression, one of the regular manifestations of which was the provocation carried out on April 11 in the area of the village of Tegh in Syunik region," the Foreign Minister said.
Referring to Azerbaijan's four-month-long illegal blocking of the Lachin Corridor, he emphasized that Armenia expects active steps from all parties involved towards the steady implementation of the undertaken obligations, as well as the February 22 decision of the International Court of Justice, the restoration of movement through the Lachin Corridor, in strict compliance with the November 9, 2020 statement.
Turning to the violations of the other provisions of the tripartite declaration, he pointed out that, contrary to numerous calls of the international community and reputable human rights organizations, Azerbaijan continues to illegally hold Armenian prisoners of war and civilians hostage, conducting mock trials and subjecting them to inhumane treatment.
In conclusion, he said that despite all difficulties, the Armenian side is committed to existing commitments and is ready to make all efforts to achieve peace and stability in the region.