STEPANAKERT — Azerbaijan did not allow relief supplies to and medical evacuations from Nagorno-Karabakh for the second consecutive day on Friday, aggravating a humanitarian crisis in the Armenian-populated region effectively cut off from the outside world since December.
Baku halted on Thursday the movement through the Lachin corridor of humanitarian convoys organized by Russian peacekeepers and the International Committee of the Red Cross (ICRC) following a shootout near an Azerbaijani checkpoint controversially set up there in late April.
Armenia's National Security Service (NSS) said that its border guards stopped a group of Azerbaijani servicemen manning the checkpoint from advancing into Armenian territory and placing an Azerbaijani flag there.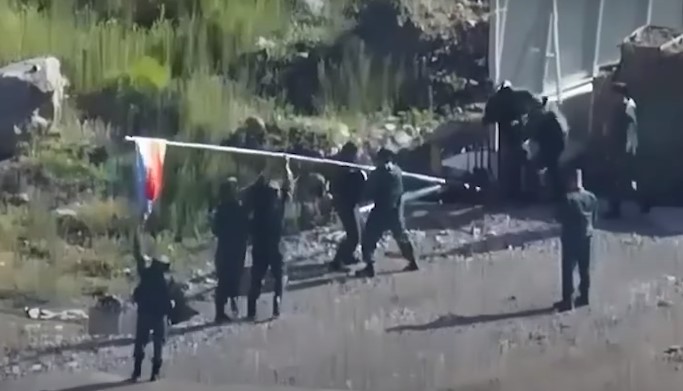 Only vehicles escorted by the Russian peacekeeping forces and the IRCR have been able to pass through the road for the last seven months. The peacekeepers have delivered food and other essential supplies to Karabakh while the Red Cross evacuated critically ill patients for further treatment in Armenian hospitals.
An ICRC spokeswoman in Stepanakert, Eteri Musayelian, confirmed that Red Cross vehicles carrying 25 Karabakh patients and their family members were turned away from the Azerbaijani checkpoint on Thursday. She said the Red Cross hopes to resume the evacuations soon.
Armenian Prime Minister Nikol Pashinyan on Friday condemned the complete blockage of humanitarian traffic through the Lachin corridor.
"Food does not enter Nagorno-Karabakh from the outside world, and citizens in need of urgent medical assistance are not allowed to pass through the Lachin Corridor," he said during a cabinet meeting in Yerevan.
While again accusing Azerbaijan of pursuing a "policy of ethnic cleansing in Nagorno-Karabakh," Pashinyan renewed his calls for a "dialogue between Baku and Stepanakert within the framework of an international mechanism." He also pledged to continue striving for a peace treaty between Armenia and Azerbaijan despite continuing ceasefire violations on the border between the two countries.
The Armenian Defense Ministry said that Azerbaijani forces again opened fire on Friday morning at a metallurgical plant which is being constructed by U.S. investors in the Armenian border village of Yeraskh.
Two of its Indian workers were seriously wounded and hospitalized after the construction site located less than a kilometer from Azerbaijani army positions came under cross-border fire on Wednesday. The U.S. State Department said it is "deeply concerned" about the incident. Several dozen foreign diplomats based in Yerevan visited Yeraskh and inspected the under-construction facility on Thursday.