LOS ANGELES — Famous American astronaut Garrett Reisman has declined from participating in the next International Astronautical Congress (IAC) to be held in Baku, the capital of Azerbaijan, citing that country's military aggression against Armenia.
"Why is the International Astronautical Congress (IAC) being held in Azerbaijan, a country that is guilty of recent military aggression against its neighbor Armenia? Azerbaijan is one of the most corrupt countries, it has one of the worst human rights indicators in Europe. I will not go, and if you are planning to go, please reconsider," Raisman wrote on his Tweeter post.
He also reminded that Azerbaijan's military aggression against Armenia started in September of last year, which was condemned by the European Parliament.
In his Twitter microblog, the astronaut also shared the reports and assessments of a number of international organizations.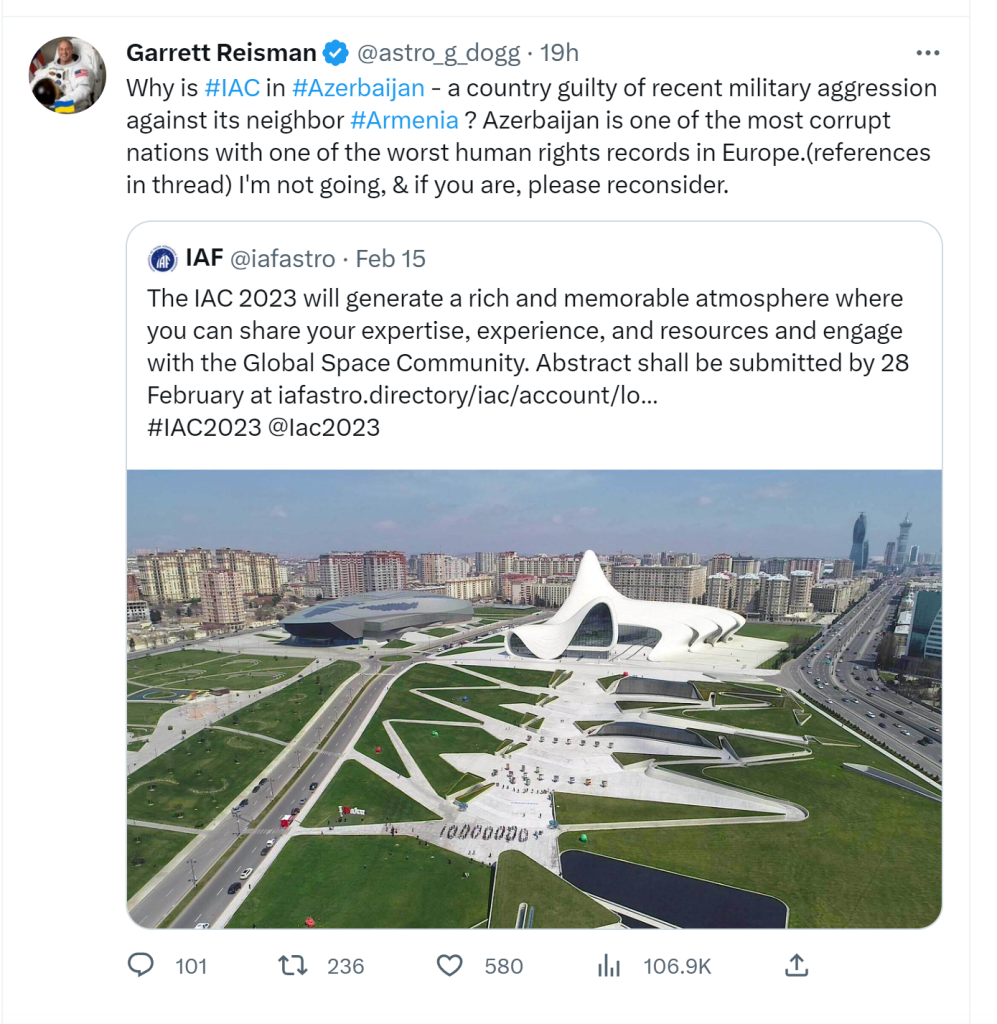 A recent Freedom House report places Azerbaijan in a four-way tie with Russia, Turkmenistan and Uzbekistan as the most corrupt countries in Europe and Central Asia.
Reporters without Borders ranks Azerbaijan in the 154th place out of 180 nations (just 1 spot ahead of Russia, congratulations, Azerbaijan!) on the Press Freedom Index.
Transparency International ranks Azerbaijan as 128th out of 180 nations on their current Corruption Perceptions Index – again just one place above Russia – well done, Azerbaijan!" Reisman added.
The next International Astronautical Congress is slated for October in Baku.
Garrett Erin Reisman is an American engineer and former NASA astronaut. He was a backup crew member for Expedition 15 and joined Expedition 16 aboard the International Space Station for a short time before becoming a member of Expedition 17. He returned to Earth on June 14, 2008 on board STS-124 on Space Shuttle Discovery. He was a member of the STS-132 mission that traveled to the International Space Station aboard Space Shuttle Atlantis from May 14 to 26, 2010. He is a consultant at SpaceX and a Professor of Astronautics Practice at the University of Southern California's Viterbi School of Engineering.