NEW YORK — Prime Minister Nikol Pashinian met in New York City with representatives of the Armenian community and U.S.-based Armenian organizations on the evening of September 23. The Prime Minister thanked them for such a warm welcome, noting that he had already met with many of them in an atmosphere of general enthusiasm in Armenia.
"The 27th anniversary of Armenia's independence was celebrated two days ago. We had not seen such a festive atmosphere of independence celebrations since the referendum on independence in Armenia. This mood was confirmed today with another fact. You may know that Yerevan City Council elections have been held, with 99% of results summed up already. In those elections that went off in absolutely fair, free and transparent conditions, My Step alliance has won 81% of the votes. This means that the allegations about the possibility of a counter-revolution are null and void as evidenced by the election results," the Prime Minister said, noting that the only thing that is possible in Armenia is lawfulness, democracy, independent judiciary and free economic competition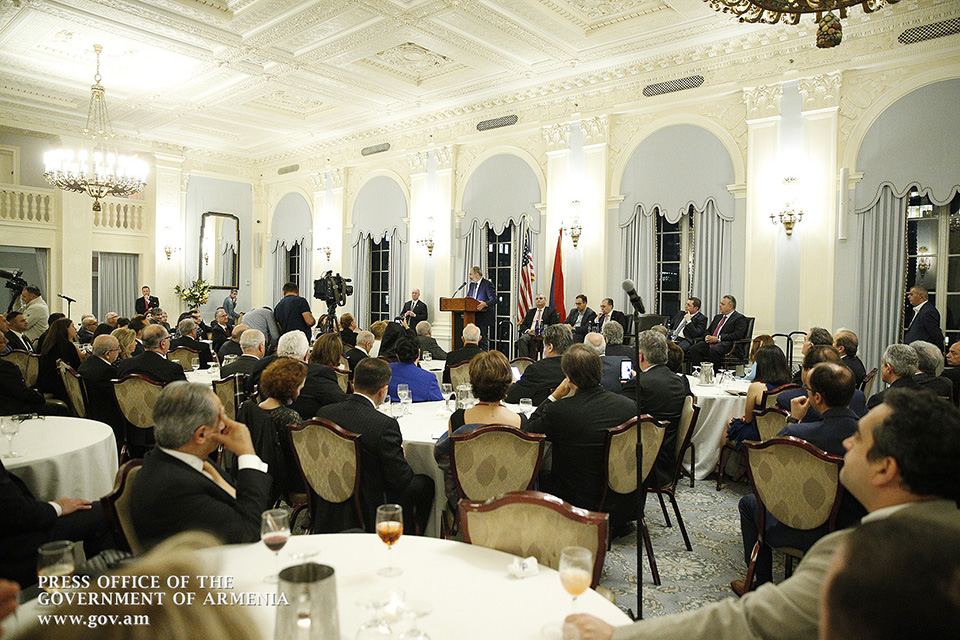 Nikol Pashinian underscored that unlike what we have had for many years, there are no longer monopolies and privileged people in Armenia. "The government has set itself many priority tasks to address – foreign policy, economy, institutional, etc. Two days ago, the European Court of Human Rights issued its first ruling on the events of March 1-2, 2008, which according to lawyers' opinion, implies that the whole judicial system was at odds with lawfulness and legality in Armenia. This means that what I was talking about at the rally of August 17 has been confirmed by the ECHR judgment," the Head of Government said.
The Prime Minister stressed that faced up with serious challenges, Armenia pins great hopes on the Diaspora's backing. "A landmark shift has occurred in Armenia's development model. Before the revolution many used to ask others to do something, but now we realize that each of us has to do something. The revolution's pivotal meaning is that every citizen of Armenia now understands that his or her position is decisive in terms of shaping Armenia's future. No matter who is the prime minister, what matters is that today the citizens of Armenia are free to elect a government or a member of parliament through fair, transparent and democratic elections. It may seem somewhat strange that the ruling political force gets so many votes in City Council elections, but you all know that there was a particular political context in those elections. I had asked people to vote for My Step alliance as an approval of early parliamentary elections," Nikol Pashinian said, adding that he would negotiate with parliamentary and non-parliamentary political forces to discuss the terms and timetable of early parliamentary elections. "There was a mood that they should be held by June next year, but the expectation that potential investors have in terms of making long-term political records, and the overall economic environment make the elections more earnest, of course. Today, the structure of our economy is far from giving rise to any optimism, and we have to change it. Today, it consists of three main branches: agriculture, which does not meet modern requirements; mining which sells the national wealth, and finally the betting industry.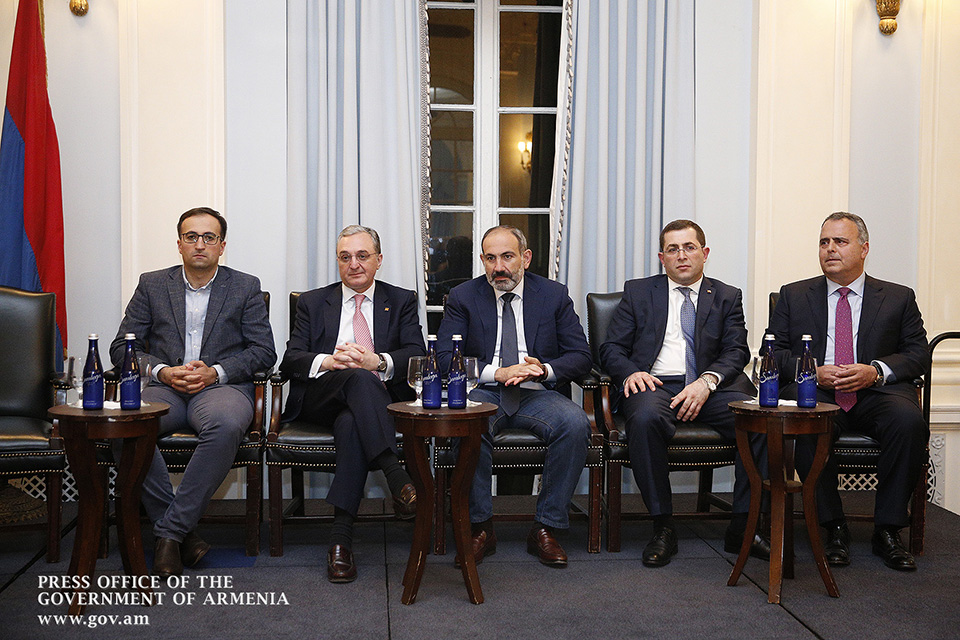 Our economy stated a two-digit rate of activity in July owing to the World Football Championship. We disapprove this state of affairs, and we want Armenia to turn from an agrarian, mining nation into a high-tech country, which is our most important imperative as it stems from our security environment.
Our government did everything to keep the situation stable in the country as it was the most important challenge in the post-revolutionary period, and we did it.
Today, our most important task is to attract new investments. To this end, we have embarked on a tax code reform; we are building an independent judiciary; we are trying to ensure a stable political situation, for which we need to hold snap parliamentary elections in the near future. The outcome of Yerevan City Council elections demonstrated that early parliamentary elections are inevitable and they should be held soonest possible," the Prime Minister underscored.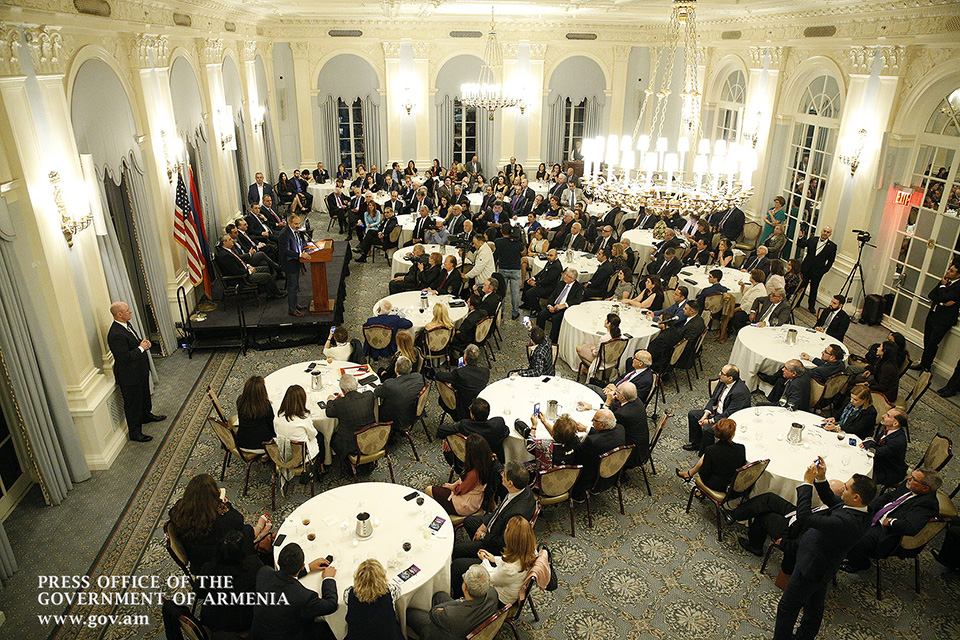 The Head of Government reiterated that monopolies and corruption have become a thing of the past in Armenia: the City Council elections were free from corruption; they went off without interventions on the part of district and criminal figures. "The citizens of Armenia had the opportunity to vote for whom they wanted, and eventually they have voted for the revolution, snap parliamentary elections, in favor of a free and happy Armenia. Today, money does not have any influence on election results; we will develop tools to ensure that money is used for canvassing purposes rather than for buying votes," Nikol Pashinian concluded.
Coming to Armenia-Diaspora relations, the Prime Minister noted that labor should henceforth prevail over charity. "Armenia can be backed in just one way – by promoting economic activity. Armenia should be perceived as a business-friendly country. Our message is as follows: "Get richer and enrich others." Armenia no longer needs charity projects; instead we need development programs, such as the Tumo Center, which has become one of the most important centers of modern Armenia.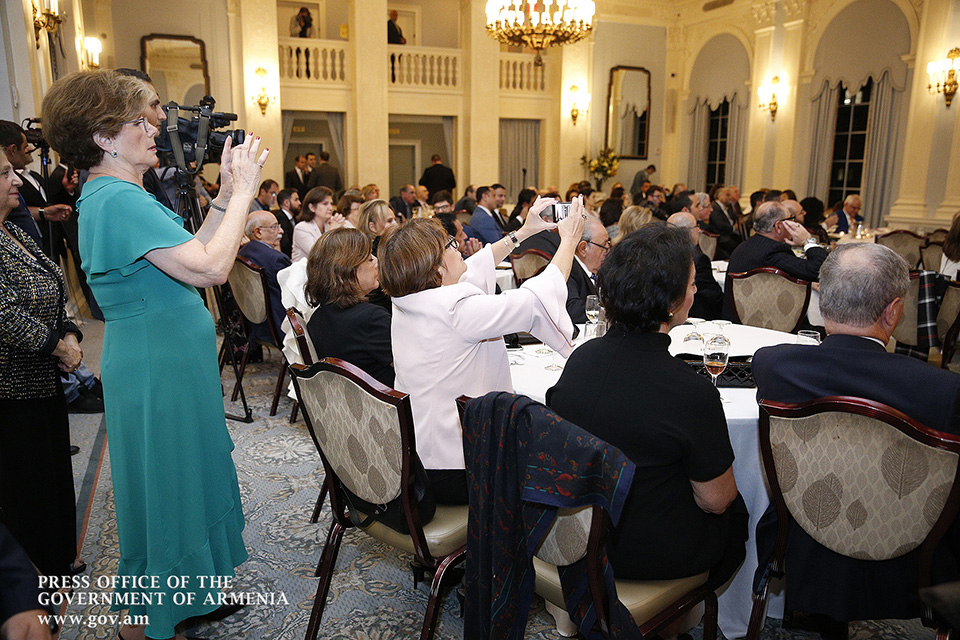 We hope that new international brands will be created in Armenia to change the strategic destination of the State and the Armenian people. The era of survival is over, and the time of developing Armenia has come. We should treat the Armenia-Artsakh-Diaspora relations as a single body," Nikol Pashinian said.
In conclusion, the Premier touched upon Armenia's foreign policy. "We are going to develop relations with all international partners, but we are not going to do it at the expense of others. We will try to strengthen our relations with Russia, EAEU members, Iran, Georgia, the European Union and the United States. We should be more confident in these relations, with approaches inherent in a sovereign nation. We will pursue our foreign policy based on national interests and not on the need to remain on office," the Premier emphasized.
Nikol Pashinian answered a number of other questions concerning the freedom of expression and mass media, the status of human rights, the independence of the judiciary, Hayastan All-Armenian Fund's activities, education, light industry, banking system, etc.