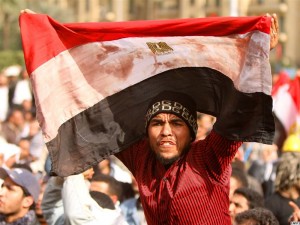 YEREVAN — Armenia still does not plan to evacuate more than 200 of its citizens remaining Egypt despite continuing turmoil there, the Foreign Ministry in Yerevan said on Friday. It at the same stood by its travel warning issued to Armenian nationals earlier this week.
Ministry spokesman Tigran Balayan told RFE/RL's Armenian service that about 40 Armenians, some of them Egyptian citizens, have expressed a desire to leave the unrest-stricken country. He said the Armenian Embassy in Cairo has advised them to fly to Yerevan at their own expense.
"The Embassy has issued a statement urging them to make use of regular flights. The Cairo airport now works in the regular regime," said Balayan. One Armenian family returned to Yerevan on Thursday, he added.
The Foreign Ministry says there are currently no Armenian citizens in Tunisia and estimates the number of them remaining in Egypt at about 230. More than 160 of them are tourists spending holiday in the Red Sea resort of Sharm el-Sheikh. They are scheduled to return home early on Sunday.
"The situation in the Egyptian resorts remains calm, the government is taking additional security measures in the country's tourism centers," Deputy Foreign Minister Arman Kirakosian told the Yerevan daily "Azg" in an interview published on Friday.
"At this moment, the measures taken by the Egyptian authorities are sufficient for tourists' safety, and evacuation of Armenian citizens is not being discussed yet," he said. "However, appropriate steps could be taken in the event of a negative development of the situation."
Nevertheless, continued Kirakosian, the authorities in Yerevan advise Armenians against traveling to Egypt and Tunisia. The travel alert was issued by his ministry on Monday.
Egypt is also home to an ethnic Armenian community numbering several thousand people, most of them descendants of Armenians who survived World War One-era massacres in the Ottoman Empire. The community has traditionally stayed away from the country's political life and is not known to be involved in the dramatic developments going on there.
The Armenian government has refrained from officially reacting to them so far. In remarks apparently reflecting his personal views, Kirakosian told "Azg" that the unrest underscores the need for democratic "reforms" in Egypt. He stressed at the same time that the administration of the embattled President Hosni Mubarak has always had a "balanced" position on issues of importance to Armenia.