YEREVAN — President Vladimir Putin on Monday pledged to strengthen Russia's geopolitical presence in the South Caucasus and insisted that Armenia decided to join a Russian-led union of ex-Soviet states on its own.
Making his first official visit to Armenia since regaining the Russian presidency last year, he also said Moscow will help the Armenian government complete its accession talks with the Customs Union "as soon as possible."
Putin praised his Armenian counterpart Serzh Sarkisian's pro-Russian strategic choice as he began his one-day trip in Gyumri, the country's second largest city hosting a Russian military base.
Addressing a Russian-Armenian forum held there, he said, "I spoke with the Armenian president on our way from the airport and it turned out that Armenian experts have properly calculated the benefits and preferences that Armenia will receive in case of joining the Customs Union. It means that this is the sovereign choice of the Armenian people and Armenia's leadership."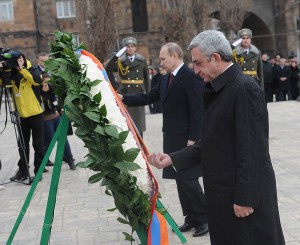 Putin thus clearly sought to deny a widely held belief that Sarkisian unexpectedly decided to make his country part of the union under strong Russian pressure. The Armenian leader announced his foreign policy U-turn during a September 3 visit to Moscow. Many observers believe that the Kremlin exploited, among other things, Yerevan's heavy dependence on Russian military assistance resulting from the unresolved Nagorno-Karabakh conflict.
Addressing hundreds of governments officials representing various Russian and Armenian regions, Putin insisted that membership in the Russian-led trade bloc will boost Armenia's "economic potential." He said its current member states — Russia, Belarus and Kazakhstan — are already reaping "tangible benefits" in the form of increased mutual trade and investments.
Sarkisian, for his part, spoke of "colossal work" done by his administration towards Customs Union membership since September 3. Putin acknowledged these efforts at a joint news conference held by the two men in Yerevan later in the day.
"The Armenian side is acting very energetically and demonstrating a high level of professionalism, which is frankly putting us in a somewhat difficult situation. We are struggling to keep up with our Armenian partners," the Russian president said, making Sarkisian grin.
Asked just when Yerevan will complete the accession talks, Putin said, "I don't want to speak of concrete time frames because that depends not only on Russia but also our partners, Kazakhstan and Belarus. But Russia will do everything in its power to ensure that Armenia's accession to the customs union occurs as soon as possible."
Underlining the crucial security component of the Russian-Armenian relationship, Putin also visited the Gyumri headquarters of the Russian military base. Over the past year, Moscow has reinforced it with new weaponry, reportedly including tactical ballistic missiles. It is also due to deploy 18 combat helicopters in Armenia in the coming weeks or months.
"As regards Transcaucasus, Russia has never had an intention to withdraw from here," Putin declared in Gyumri. "On the contrary, we are planning to reinforce our positions in Transcaucasus, based on all the good things that we inherited from our ancestors. Based on good relations with all regional states, including Armenia."
The two presidents meeting agenda in Yereavan included continued development of the two countries' strategic partnership, trade and economic relations and humanitarian cooperation, the outlook for Armenia's accession to the Customs Union and Common Economic Space.
A number of documents were signed between the parties. In particular, Russia and Armenia signed an intergovernmental agreement to cancel export duties for supplies of natural gas, oil products and diamonds.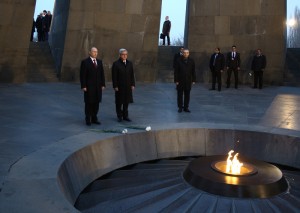 An intergovernmental agreement on cooperation in nuclear safety, a plan of action for economic collaboration and other deals were also signed following talks between the two presidents. The results of the talks were summed up at a joint press conference.
The two Presidents hailed the positive changes in the attitude of the EU and the United States towards Iran's nuclear programs. Armenian president Sarkisian noted that thousands of Iranian tourists visit our country annually and added that "we'll only benefit from the normalization of relations.
Vladimir Putin said, in turn, that Russia welcomes the nuclear deal on Iran. "This complex issue should be solved on the basis of international law and norms with Iran being granted the right to develop peaceful nuclear energy, of course, on condition that the security of all countries of the region will be guaranteed.