PARIS — Arsene Tchakarian, the last surviving member of a famed group of immigrant Resistance fighters in France during World War II, has died at age 101, his family said on August 5.
Tchakarian, who was born to Armenian parents in Turkey in 1916, died on August 4 at a hospital at his home in the Paris suburb of Vitry-sur-Seine. After fleeing from Turkey to Bulgaria to escape Ottoman violence against Armenians, the family settled in France in 1930. He was conscripted into the French army in 1937, but was demobilized in 1940 once France surrendered to the Nazis.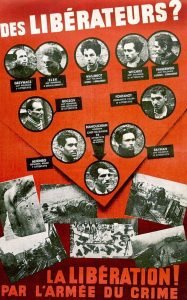 He eventually became a member of a small group of foreign Resistance members led by Missak Manouchian, an Armenian poet and fellow communist. The fighters carried out attacks on German forces and conducted sabotage in Nazi-occupied France in 1943.
"They were immigrants who had come from countries that were becoming fascist, like Hungary, Romania, Poland, Bulgaria," Tchakarian said, according to German News Agency Deutsche Welle. "From all those countries, there were immigrants who were kind of hunted out."
The group, which also included several Jewish members, was broken up in 1944 when 23 of its fighters were captured by German forces and sentenced to death by a military court.
Tchakarian managed to avoid the roundup and escaped to Bordeaux, where he remained active in the Resistance until the end of the war.
The Vichy government, which collaborated with the Nazis, attempted to discredit the group after anger surfaced over the executions, denouncing the fighters as "the army of crime."
The government's "Affiche Rouge" or "red poster" focused on the foreign and Jewish origins of the group as part of efforts to turn the populace against the Resistance. A film, titled Army Of Crime, was made about the group in 2009.
Tchakarian, who received multiple medals for his bravery after the war, was granted French citizenship in 1958. He received the Legion of Honor, France's highest distinction, in 2012.
President Emmanuel Macron wrote on Twitter that Tchakarian was "a hero of the resistance and an indefatigable witness whose voice sounded strongly right to the end."
After fighting in the legendary resistance group, Tchakarian's historical and memorial tasks occupied him for the rest of his long life. He turned his home to an archival center, spoke at colleges and schools about the Nazi occupation of France, and campaigned for the recognition of the Armenians Genocide.
As recently June 18, the former resistance fighter attended a ceremony commemorating the French Resistance, Le Parisien reported.
"I'm sort of the last of the Mohicans, as they say," Tchakarian said, according to French newspaper Le Figaro.