YEREVAN (RFE/RL) — Armenia's Transport Minister Ashot Hakobian on Monday rushed to Georgia's sole border crossing with Russia where hundreds of Armenian cars and commercial trucks were stranded due to a severe bottleneck.
Long lines of vehicles and frustrated travelers reportedly formed at the weekend on the Russian and Georgian highways leading to the Upper Lars crossing.
"There are again problems at Lars, on both the Russian and Georgian sides," one of Hakobian's deputies, Armen Pambukhchian, wrote on his Facebook page late on Sunday. "The lines on the Russian side are 9-10 kilometers long, while there are some 200 vehicles stuck on the Georgian side. Efforts are now made to quickly solve the problem."
Prime Minister Nikol Pashinian dispatched Hakobian to Upper Lars the following morning. Pambukhchian told RFE/RL's Armenian service that the minister will meet with relevant Georgian and Russian officials. He said a "gentleman's agreement" has already been reached with Georgian authorities on giving priority to Armenian trucks loaded with fruits, vegetables and other perishables.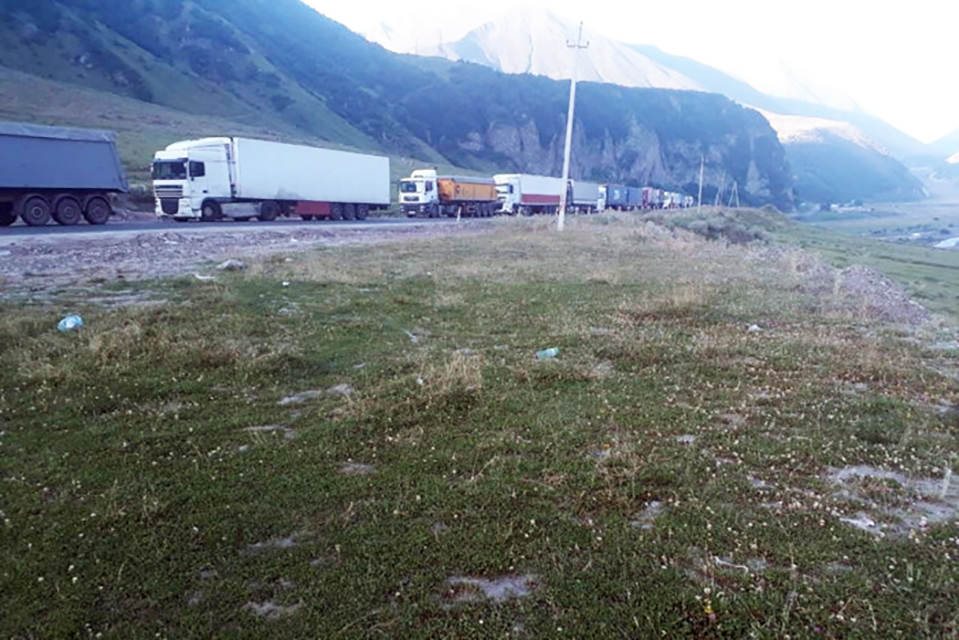 A senior executive of the Spayka company, Armenia's leading exporter of agricultural produce, said at least 100 of its trucks mostly carrying peaches remained stuck at Upper Lars as of Monday afternoon. "Some trucks have been waiting in the line for four or five days," Karen Baghdasarian said, adding that every day of stoppage damages the quality of fruits sold by Spayka in Russia.
"I see no special reason [for the bottleneck,] they are just working slowly," Baghdasarian told RFE/RL's Armenian service. "There has been no change in the procedures for cargo processing or other customs paperwork. It only has to do with the pace and scale of work."
Pambukhchian, for his part, attributed the long lines to a surge in the flow of Russian tourists to Georgia. "Armenian citizens make up only 25-30 percent of the people waiting in the lines there," he said.
Accordingly, the deputy minister denied any political reasons for the virtual disruption of traffic through the Russian-Georgian border.
Over the past week, Russia and Armenia have been embroiled in a rare diplomatic spat resulting from Armenian authorities' decision to prosecute former senior Armenian officials, notably Yuri Khachaturov, the secretary general of the Russian-led Collective Security Treaty Organization.
Landlocked Armenia's trade with Russia, its leading commercial partner, is mainly carried out through Upper Lars. Traffic along that mountainous road is periodically blocked by bad weather, especially in winter months. This is why the current and former Armenian governments have strongly supported the opening of new Russian-Georgian transport corridors.
A Russian-Georgian agreement signed in 2011 calls for reopening two roads connecting Georgia to Russia via the breakaway Georgian regions of South Ossetia and Abkhazia. For that purpose a Swiss company would set up special customs checkpoints on the administrative boundaries of the two territories. Moscow and Tbilisi have for years been discussing practical modalities of implementing that agreement.