MOSCOW (RFE/RL) — An Armenian company plans to manufacture the latest models of Russia's world-famous Kalashnikov assault rifles, the Defense Ministry in Yerevan announced on Tuesday.
The ministry spokesman, Artsrun Hovannisian, said the head of the little-known company, Royalsys Engineering, signed in Moscow a manufacturing license contract with a senior executive of Kalashnikov Concern, the state-owned small arms manufacturer.
Hovannisian reported "the extremely important news" on his Facebook page, saying that the deal paves the way for the production in Armenia of Kalashnikov's AK-12 and AK-15 models which Russia's Armed Forces adopted as their main service rifles earlier this year. He said nothing about production volumes and dates.
Photographs posted by Hovannisian showed Armenian Defense Minister Davit Tonoyan attending the signing ceremony.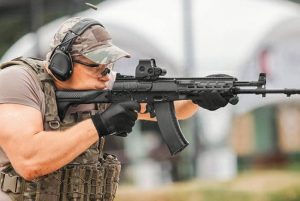 Kalashnikov's older AK-74 rifles and PK machine guns are currently the principle light weapons of the Armenian army. The deal reported by Hovannisian suggests that the Armenian Defense Ministry may be planning to gradually replace AK-74s with the more advanced AK-12 and AK-15 versions designed in 2011.
Kalashnikov Concern opened an official representation in Yerevan in 2014 at a ceremony attended by then Defense Minister Seyran Ohanian. The latter noted at the time that Russian-Armenian agreements call for the creation of joint defense ventures. One of them allows Armenian and Russian defense companies to supply each other with equipment, assembly parts and other materials needed for the production, modernization and repair of various weapons.
Tonoyan flew to Moscow on Monday to attend the opening ceremonies of an international defense exhibition and security conference organized by the Russian military. He held on Tuesday separate meetings with top executives with Rosoboronexport, Russia's state-run arms exporter, and the Almaz-Antey defense corporation.
Almaz-Antey produces, among other things, surface-to-surface missiles and sophisticated S-400 air-defense systems. According to the Defense Ministry, Tonoyan told the company's deputy executive director, Vyacheslav Dzirkaln, that some of its products are of interest to Armenia. No further details were reported.