YEREVAN — A spacebridge between Armenian peacekeepers on mission in Afghanistan and their families was organized at the Ministry of Foreign Affairs as part of the NATO Week event in Armenia under the Individual Partnership Action Plan with NATO
In a video message Armenian Defense Minister Seyran Ohanyan expressed gratitude to the peacekeepers involved in operations in Kosovo an Afghanistan.
Deputy Foreign Minister Ashot Hovakimyan attached importance to the participation and contribution of Armenian peacekeepers to the establishment of international peace and security.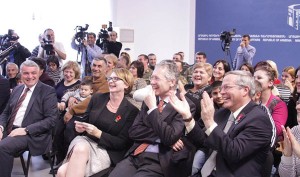 UK Ambassador Catherine Leach, German Ambassador Reiner Morell and US Ambassador John Heffern, as well as representatives of the Ministry of Defense and the Peacekeeping Brigade also welcomed and extended their good wishes to the Armenian peacekeepers.
A number of events are being held as part of the NATO Week, including a visit to the Crisis Management Center of the Ministry of Emergency Situations, a teleconference of Armenian peacekeepers in Kosovo and Afghanistan, visits to the Armenian Peacekeeping Brigade, the Yerevan State University, a roundtable discussion, etc.
U.S. Ambassador John Heffern hailed the start of the NATO week in Yerevan in a blog video posted on YouTube. Speaking in Armenian, he, in particular, highlighted that this year's subjects are cooperation between Armenia's armed forces and NATO and the role of women in global security.