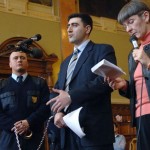 BUDAPEST — Hungary has repatriated an Azerbaijani military officer who was sentenced to life imprisonment for hacking to death an Armenian lieutenant while attending a NATO training course in Budapest in 2004.
Azerbaijani news agencies reported that Ramil Safarov was pardoned and set free by President Ilham Aliyev on Friday immediately after being extradited to Azerbaijan. It was not immediately clear which Hungarian state body ordered the extradition and on what grounds.
A Hungarian court convicted Safarov, now aged 35, in 2006 of murdering a 26-year-old Armenian lieutenant, Gurgen Markarian, in a "premeditated, malicious and an unusually cruel" way by nearly decapitating him with axe in February 2004 while the victim slept in a dormitory used by participants in a NATO language course.
Safarov was also found guilty of planning the murder of another Armenian, which he did not carry out. He was supposed to be eligible for parole in 30 years.
"Compassion and remorse were completely missing from [Safarov's] testimony," the judge in the case, Andras Vaskuti, said upon announcing the verdict that was subsequently upheld by an appeals court in Budapest.
Safarov said during his trial that the unresolved conflict over Nagorno-Karabakh was at the root of his act. He also claimed that the Armenian officer had repeatedly provoked and ridiculed him.
Safarov was reported to thank Aliyev for the "humane act" on his return to Baku. "This is a triumph of justice," he told the APA news agency. "It was somewhat unexpected to me."
"I hail the entire Azerbaijani people," he said, according to the official AzerTaj news agency. "I express deep gratitude for the attention and care shown towards myself and my family members during all these years."
Official Baku, meanwhile, praised the Hungarian authorities for effectively freeing Safarov. "The Azerbaijani side has worked in that direction for a while, and we highly appreciate the Hungarian side's cooperation on this issue," Foreign Ministry spokesman Elman Abdullayev told the Trend news agency.
Predictably, Safavor's release sparked outrage in Armenia where many people had attributed Markarian's brutal murder to anti-Armenian hysteria fanned by the Baku government. Eduard Sharmazanov, the spokesman for the ruling Republican Party of Armenia (HHK), condemned the development, saying that the Hungarian side knew that Markarian's murderer will walk free if repatriated.
In a written statement, Sharmazanov also described the pardon granted by Aliyev as "appalling." He said it "once again proved that a policy of anti-Armenian fascism is implemented at the state level in Azerbaijan."