YEREVAN (RFE/RL) — President Armen Sarkissian met with opposition leader Nikol Pashinian on Saturday during a surprise visit to Yerevan's Republic Square where tens of thousands of people continued to demand Prime Minister Serzh Sarkisian's resignation.
Sarkissian was greeted with "President, reject Serzh!" and "Nikol!" chants as he entered the sprawling square hours after renewing his calls for a dialogue between the government and Pashinian. The two men spoke for 15 or so minutes there. Journalist were not allowed to approach them during the conversation.
The recently elected president, who has largely ceremonial powers, could only be heard proposing to Pashinian crisis talks at a hotel located on the square. As he left the square he answered only one of the questions shouted by reports. Asked by an RFE/RL correspondent whether such talks will be held, he said: "I hope so."
Sarkissian expressed serious concern at the intensifying political crisis in the country earlier in the day. In a statement, he said both the Pashinian-led protesters and the authorities must show "extreme restraint."
"It is imperative to defuse the tensions," Sarkissian said, adding that he is going to meet Pashinian and to offer to host a "dialogue of political forces."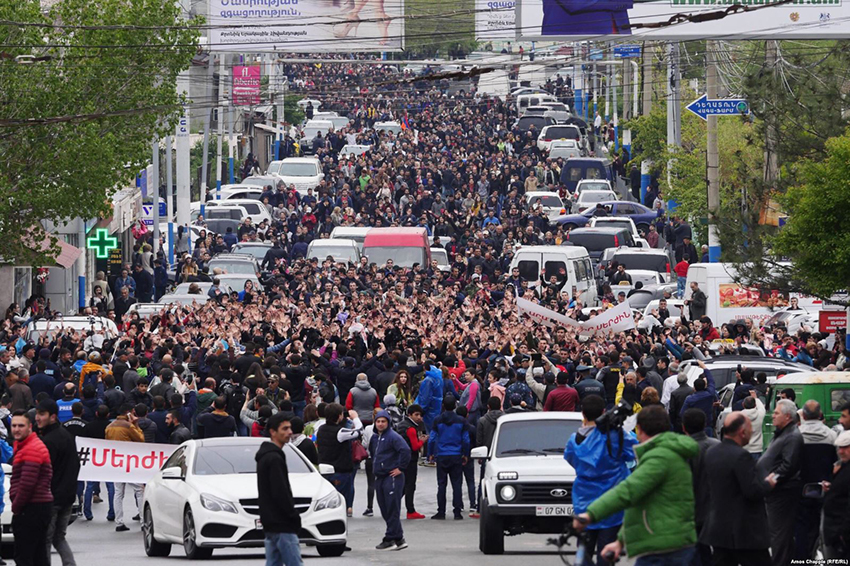 Nikol Pashinian has again rejected calls from Prime Minister Serzh Sarkisian for immediate talks to end street protests against the prime minister's election, as police made dozens of arrests and threatened further action.
Amid a slow drizzle and cooler temperatures, demonstrators flooded into the streets for a ninth consecutive day on April 21, opposing the shift that enabled Sarkisian to stay in power.
Police said that as of midday, 70 people had been detained in different parts of the capital, while the Justice Ministry warned officials had the right to disperse the protesters.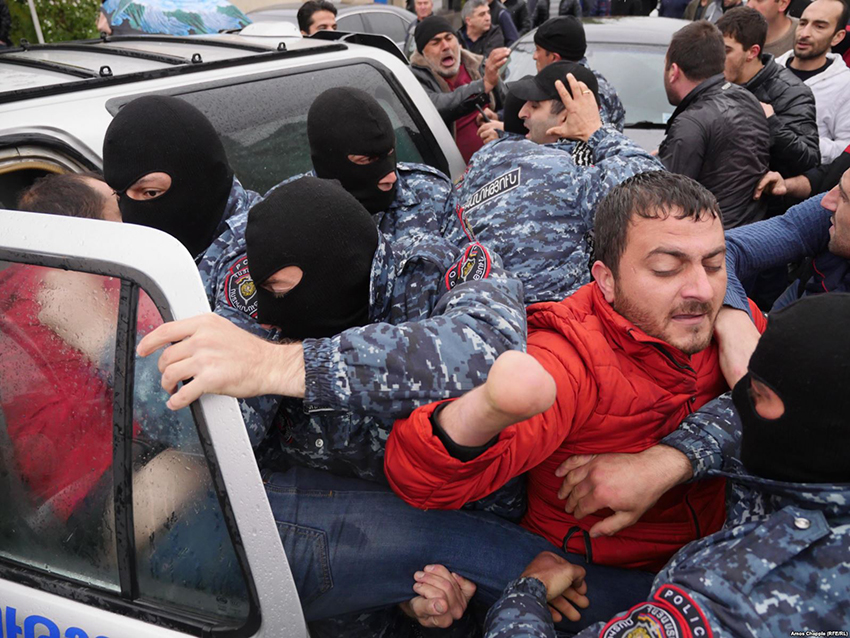 While the protesters were marching and chanting slogans such as "Make a stand, say no to Serzh," Sarkisian's appeal for dialogue appeared to fall on deaf ears.
"We do not want vendettas, we do not want revenge. We want the transfer of power to the people," Pashinian said, adding the protesters are ready to discuss the terms of Sarkisian's dismissal.
Truck drivers also joined the protesters, blocking three intersections with their vehicles.
Demonstrations have also taken place outside the city.
In Artashat, a town about 30 kilometers south of Yerevan, Arus Hakobian, a correspondent for RFE/RL's Armenian Service, was assaulted while streaming live video of an argument between government loyalists and opposition supporters.
Hakobian said that police officers present during the attack, which left the correspondent with a bloody mouth, did nothing to prevent the violence.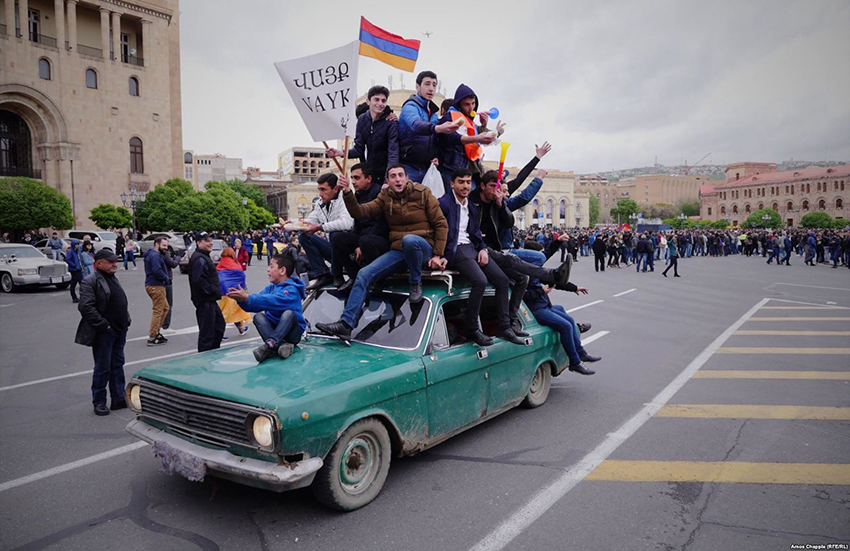 Protesters also rallied in Armenia's second-largest city, Gyumri, where they attempted to block a highway leading to Yerevan, and in Vanadzor, the third-largest city in the country of about 3 million people.
Dozens of Yerevan streets and several major roads connecting regional cities to the capital have been blocked by crowds of protesters. In some cases, police abandoned the streets and protesters were regulating traffic themselves.
In an interview with Current Time TV, Pashinian rejected the accusation that protesters were committing offenses against public order.
"This is a completely peaceful [protest], but there is a new element to it," Pashinian told Current Time, a project of RFE/RL in cooperation with VOA, as he marched in a crowd.
"We are calling on the police not to protect Serzh Sarkisian, because they are not Serzh Sarkisian's police, but the police of the Republic of Armenia and its people," he said.
Sarkisian wants to "see Armenia either through barbed wire or through the slots in riot shields," Pashinian said, suggesting that the longtime leader is hiding behind the police.