LOS ANGELES – In 1967, a group of Armenian-Americans organized by the National Association for Armenian Studies and Research (NAASR) were among the first to travel to Historic Armenia to find traces of their roots the Turks had left behind. On Sunday, October 1, 2017, portions of J. Michael Hagopian's documentary film of that landmark journey will be screened along with Ani Hovannisian-Kevorkian's short documentary on the vanishing traces of Historic Armenia, shot nearly 50 years after Hagopian's footage.
The October 1 program, "Forbidden Journeys," will present segments of Hagopian's 1967 film Historic Armenia and of Hovannisian-Kevorkian's current documentary on the disappearing vestiges of Historic Armenia, followed by a panel that includes Marc A. Mamigonian, Director of Academic Affairs at NAASR, Dr. Carla Garapedian of the Armenian Film Foundation, Dr. Richard G. Hovannisian, Professor Emeritus of Modern Armenian and Near Eastern History at UCLA, and Hovannisian-Kevorkian. UCLA Professors S. Peter Cowe and Sebouh Aslanian will make opening and closing remarks.
"Forbidden Journeys" will be the first program in the J. Michael Hagopian Film Discovery Series jointly presented by the Armenian Film Foundation (AFF) and NAASR. It will focus on the pioneering legacy of J. Michael Hagopian – his impact as an advocate for Armenian Studies and as a filmmaker.
The 1967 trip was the first of NAASR's "Armenian Heritage Tours." The Armenian-Americans who set out on this journey were the earliest such group to travel to historic Western Armenia. For some, it was a trip back to the places of their birth. Among the travelers was Hagopian, NAASR's first West Coast director and co-founder of the Armenian Film Foundation. Himself a native of Kharpert and a survivor of the Armenian Genocide, Hagopian shot film on this path-breaking trip, capturing in many cases for the first time post-Genocide images of the Western Armenian homeland. The film has not been screened for over three decades.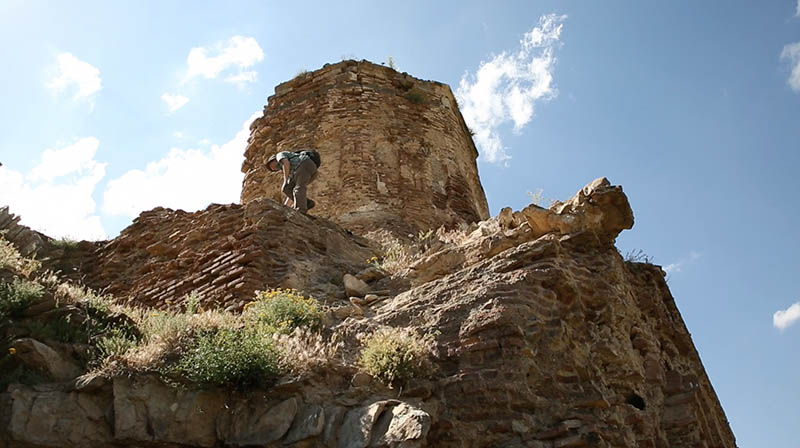 Fast forward to 2013 when Hovannisian-Kevorkian was traveling through Western Armenia and discovered a lone Scottish explorer/photographer who has spent 30 years quietly uncovering and documenting the vanishing traces of this lost world. Since then she has been filming with him, digging beneath the modern map, encountering stories and physical remnants and revealing the hidden map of Turkey's forbidden past.
Co-sponsored by the Richard G. Hovannisian Chair in Modern Armenian History at UCLA, the Narekatsi Chair in Armenian Language and Literature at UCLA, and the Ararat-Eskijian Museum, the October 1 program will take place at 2:00 pm, at the James Bridges Theater, Melnitz Hall, UCLA. This program is free and open to the public. A reception will immediately follow the program. Parking is available in Lot 3, 215 Charles E. Young Drive North (at Hilgard Avenue). For more information about the program, contact NAASR at (617) 489-1610 or [email protected].